Women's Tour de France campaigners publish manifesto
Last updated on .From the section Cycling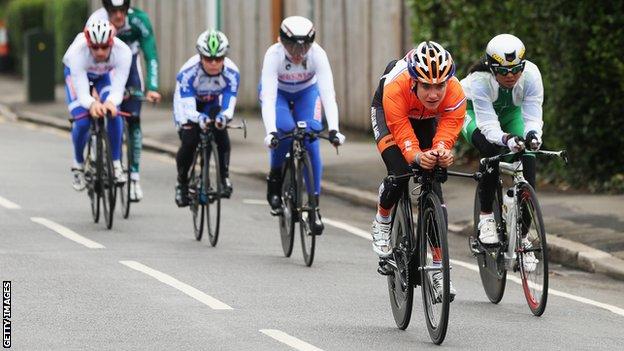 A manifesto has been published as campaigners step up attempts to reintroduce a women's Tour de France.
Le Tour Entier's document calls for a women's event, last held in 2009, to be run alongside the men's race from 2014.
More than 93,000 have signed a petition by the group, led by cyclist and writer Kathryn Bertine, World Ironman champion Chrissie Wellington, and cyclists Marianne Vos and Emma Pooley.
"We must revamp the entire structure of women's cycling," Bertine said.
The manifesto - which has been sent to the International Cycling Union (UCI) and Tour de France owners Amaury Sport Organisation - also requests that three women's tours are established, and race and stage length restrictions for women abolished.
Bertine told BBC Sport that sponsors are in place to back the proposals. A women's race was first run in 1984 but the last event took place four years ago, when Pooley won.
She believes this month's UCI presidential election will play a "huge role" and insisted that should Brian Cookson defeat the incumbent Pat McQuaid it would be a catalyst for change.
Bertine added: "We have to elevate all of women's cycling so it is sustainable. It's about having a Tour de Everything, all the opportunities that the men have as well.
"Right now, we need change. We believe that Brian Cookson, in his manifesto, presents an opportunity for women's cycling to move forward.
"If Pat McQuaid wins [a third term], my biggest fear is that nothing will happen."
Olympic and World road cycling champion Vos, the most successful female cyclist of all time, added: "My dream is to give women's cycling a bigger platform, to help it have a brighter future and to show the world the beauty of the races."
Le Tour Entier means "The Whole Tour".