The Iron diplomat: Chrissie Wellington's return to politics
By Ollie Williams
BBC Olympic sports reporter
Last updated on .From the section Cycling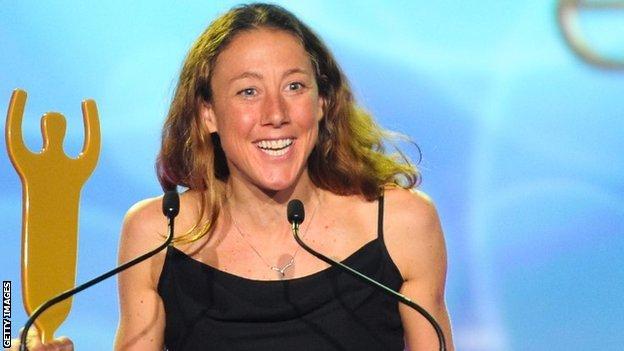 The spark behind Chrissie Wellington's transition from triathlon icon to cycling activist lies in Nepal.
Only in her late 20s did she realise her own strength and start out on the road to four Ironman world titles.
Before that, she worked for the UK government as an international environment and development adviser - a natural consequence of her masters degree in development economics.
Early lessons she learned in diplomacy are now being brought to bear on the politics of global cycling, as she launches a manifesto calling for a women's Tour de France. Both roles are a world away from life in Ironman.
"I'm back in a suit and not wearing lycra for six hours a day," reflects the 36-year-old, who retired in late 2012.
"Nothing in this world can compare to the thrill of competition and the satisfaction, the exhilaration of crossing the line - in first place, especially. But this is exciting and challenging in its own way."
Male domination in world cycling holds no fear for Wellington, who spent the early 2000s "working principally with the United Nations to negotiate, on the government's behalf, new environment and development policy".
By 2004, she had taken a sabbatical and was working to improve water supplies and sanitation in the conflict-affected west of Nepal. "And when I wasn't doing that, I was riding my bike. And I had this epiphany - I realised I might be stronger at endurance sport than I thought."
Ironman beckoned, but now - after one of the most impressive careers in world sport, undefeated in any Ironman she raced - Wellington is back in the boardroom.
"She is one of the most passionate, driven and smart people," says Kathryn Bertine, a co-founder of the Le Tour Entier movement which is launching the women's Tour manifesto.
"For her, it's the most genuine mission. She truly believes in the power that women have.
"Emma Pooley and I were talking about the petition [which garnered 93,000 signatures during this summer's men's Tour de France] and I said, 'You know what, we should talk to Chrissie.' When I mentioned it to her, there was an immediate reaction.
"What's wonderful is she is recognised not just by female athletes but by male athletes, fans and followers of sport as well. She has completely changed the sport of triathlon, and the media and public's perception of what is possible. She knows and understands her influence and power."
But Wellington, who jokes she should "be in the circus with the amount of balls I'm trying to juggle," has also been working to fill a hole. Retirement from Ironman meant some awkward adjustment from the intense world of elite endurance sport.
"The biggest challenge was going from the myopic, single-minded focus on one goal - that's quite a selfish and self-absorbed pursuit - to having a life which is varied, and full of different goals and obligations," says Wellington.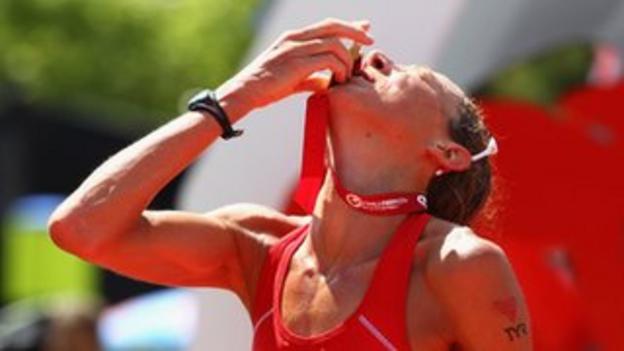 "It was quite difficult to adjust to that lifestyle and that change of pace. Some of the skills and experiences I had while working for the government definitely helped me.
"I have a lot more to learn, and those skills were somewhat rusty having not used them for five or six years, but I'm enjoying drawing on those again."
Wellington is not, and never has been, a professional cyclist. However, she says her positive experience of triathlon - with its equal distances, courses and prize money for men and women - is instructive for world cycling. Bertine says Wellington's background is irrelevant.
"When we're talking about equality in cycling, we're actually on a much bigger platform," says the cyclist and journalist from her Arizona home.
"We're talking about equality in society. This is not about a bike race, this is about having women on the same page as the men. We're not talking about her coming on board as a triathlete; we know she is on board as a visionary and somebody who makes things happen."
On one level, it may yet be about a bike race for Wellington. Asked if she is tempted to ride in a future women's Tour de France should one materialise, despite her lack of pro cycling credentials, she conspicuously refuses to rule it out.
"I would need to come out of retirement and significantly improve my strength and skill on the bike," is her first reaction. "I never would want to imply that I could keep up with any of those girls on two wheels.
"I'm a competitor - and I still am, even though I'm a retired athlete. But I have to say it would be a lot of work to get in a place where I'd be ready and able to compete with these women on the world stage. Right now, my focus is behind the scenes."