Commonwealth Games: Andy Fenn powers towards Glasgow

By Keir Murray
BBC Sport Scotland
Last updated on .From the section Cycling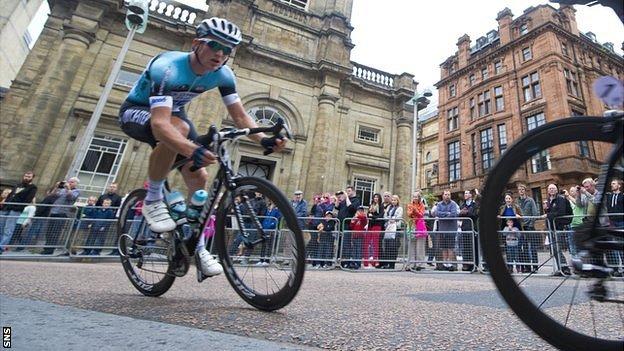 When Andy Fenn reacquaints himself with Glasgow's roads at the Commonwealth Games next year he will do so as a more accomplished rider than the one who wore Scotland colours in Delhi.
Since 2010, Fenn has added six senior stage wins to his palmares - as a rider's list of victories is known - and this year rode his first Grand Tour, La Vuelta a Espana, for Omega Pharma-Quickstep, his Belgium-based team.
This is his third year living across the Channel and everything about the 23-year-old's manner suggests he is taking things in his stride.
He is modest but also aware of his talent, accepting that a rider has to improve in increments to reach cycling's heights.
Fenn was born in Birmingham, grew up in Welwyn in Hertfordshire, raced in Italy for a spell before moving to Belgium - and represents Scotland.
"My mother is Scottish so that's where the connection is," he told BBC Scotland.
"I said 'OK' when I was asked to ride for Scotland when I was a junior. I hadn't ridden for them for a few years and then I finally got my chance in Delhi.
"It will be nice to represent them again, hopefully, in Glasgow.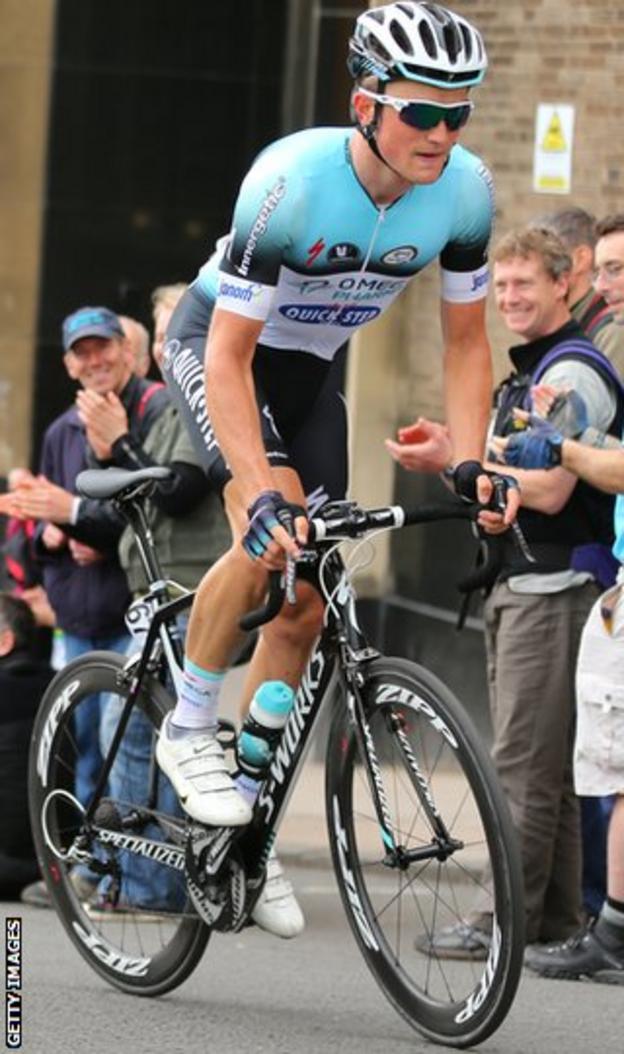 "I'd like to think I've got a good chance. There are six places for the road race.
"Dave [David Millar], who won the bronze in Delhi, is likely to be riding, and then there's Evan Oliphant and James McCallum.
"It's not like we're struggling to fill the spots, that's for sure."
The final make-up of the squad will be decided by Commonwealth Games Scotland with expert guidance provided by Gary Coltman, Scottish Cycling's head of performance, now five months into his post at the body's headquarters at the Sir Chris Hoy Velodrome in Glasgow's east end.
He is monitoring Fenn's progress at Omega Pharma-Quickstep with a view to naming the Scotland team next year. Few Scottish riders, though, can match Fenn's talent.
Having switched from the track after an impressive junior career, he is known as a "rouleur" and will offer the likes of Millar not only support in the Commonwealth Games road race, but competition for a medal.
"I'm a bit of an all-rounder, maybe more of a sprinter," was his assessment of his attributes.
"I'm not a climber, that's for sure! I've got a fast finish and I think I can do different things in different types of races."
As if it to set down a marker for the Games, Fenn and Sky's Ian Stannard led a breakaway for the first nine of the 13 laps at
However, the duo were caught and Fenn fell out of the race completely, while Stannard and Millar were beaten in a sprint finish by Fenn's illustrious team-mate Mark Cavendish.
The young rider loved the occasion, though, and was delighted to hear an increasing number of spectators cheer him along the route as they became aware of who was leading the race.
Before the Games begin next summer, Fenn is looking forward to training with his prospective Scotland team-mates.
"Hopefully we'll get together in the winter, somewhere warm like Spain, and I can get to know some of the guys I haven't raced with," he said.
"I'll try to base my programme a bit around the Commonwealth Games. I'll start again in January or February. It's quite well into the season by the time the Games come around.
"That's going to be a big goal for me next year, especially with it being in Scotland. It will make it that bit bigger.
"I was really happy to race in Delhi [where he finished 13th in the road race]. It was a great experience."
Fenn fulfilled an ambition by being chosen by Omega Pharma-Quickstep to ride La Vuelta, the Tour of Spain, along with team-mates Tony Martin of Germany, Czech Republic's Zdenek Stybar and six Belgians.
He had, he revealed, been told that to develop "you need to get a Grand Tour in your legs", but his experience was cut short on 2 September when he was disqualified for holding on to a car for too long on the mountainous 187km stage 10 from Torredelcampo to Guejar Sierra.
That was undoubtedly a setback but his career progression has, nonetheless, been as steep as some of those Spanish mountain passes.
"I started off mountain biking and when we moved up to Hertfordshire there was a track there," he explained.
"I joined the Welwyn Wheelers, then the British Cycling programme came in with the development team and I worked my way up through that.
"I was quite fortunate that it came in just as I got involved in cycling.
"When you're junior you're based at home, you're still in school, but when you're in the Under-23 squad they move you to Manchester for the winter and Italy for the summer."
Fenn's time in Tuscany helped him acclimatise to the life of a professional cyclist in continental Europe, where he is now in his third year in Belgium, having moved there after an amateur career made special by his winning the junior version of the Paris-Roubaix classic in 2008.
"Racing in England the level is high but you don't really know how good you are until you race abroad," he added.
"That's where the British programme is so good; they have so many international races you can compare yourself with everyone your age so you get a better idea of how good you actually are."
After riding for the national team for a few years, Fenn joined An Post-Sean Kelly in 2011.
"They do half-professional races, half-amateur races. They get invitations to some of the big races in Europe so it made that step to being a full-time professional with Omega Pharma last year a little bit easier.
"With your first contract you've got a couple of years to settle in and find your place in the team.
"They won't put you into too big a race. They've been good at helping me develop and not chucking me in at the deep end too quickly."
Riding in tandem with his Commonwealth ambitions, Fenn is aiming for greater consistency and some more stage wins, as well as learning from Cavendish.
"He definitely has his own way of doing things, that's for sure," he remarked, grinning.
"He's very individual but a lot of the top guys are. You can see why he is as good as he is."
In the coming days Fenn has the chance to represent Great Britain at the UCI Road World Championships in Italy.
Breaking into the team will be tough, though.
British Cycling's performance manager Shane Sutton can choose from the following in addition to Fenn: Tour de France winners Chris Froome and Sir Bradley Wiggins, Stannard, Cavendish, Steve Cummings, Alex Dowsett, Josh Edmondson, Luke Rowe, Geraint Thomas and Jon Tiernan Locke.
Should Fenn prosper in such exalted company in Team GB, his homecoming of sorts next year could be rewarded with a podium finish.