Road World Championships: Chris Froome backed for road race glory

By Geraint Thomas
Double Olympic pursuit champion and Great Britain rider
Last updated on .From the section Cycling65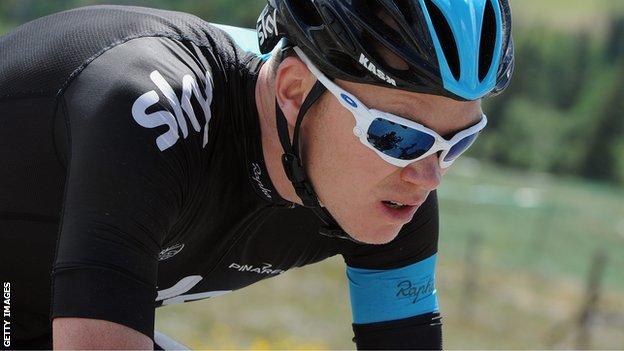 Britain's Olympic track champion and Team Sky cyclist Geraint Thomas is part of the British team competing in the World Road Championships. The Welshman won bronze in the team time trial, will compete in Sunday's road race and also talks about Sir Bradley Wiggins' prospects in Wednesday's men's time trial in his latest column for BBC Sport.
I will be hoping to help Chris Froome add a rainbow jersey to his Tour de France victory when we ride for Great Britain in the world road race championship in Florence on Sunday - and I think he has got a great chance of winning it.
This is a race that suits him - it is long, at just over 270km, and the climbs are tough as well, especially after six hours of racing.
The route includes 10 circuits of Florence and a total of more than 58km of climbing, which is as much as a mountain stage in the Giro d'Italia or Tour de France.
Chris and I were part of the Team Sky squad that won bronze in the team time trial event on Sunday. To be honest I was a bit uncertain how that would go, so it is great to already have a medal.
Now it is the challenge of the road race. I have not been out on the road course myself but Froomey has been here scouting it out in the last few weeks, and he tells me it is a difficult one.
I had an idea that it would be, after living in Tuscany for a few years with the Great Britain Cycling Academy and then when I was with the Barloworld team. So I know most of the roads already and, once I have done one lap, I will know the actual circuit for myself.
Not having ridden it beforehand does not actually make much difference to me because I am not here to win the race for myself.
My role will depend on the job I am given, but I would guess it would be in the first part of the race - I will stick with Chris in the first 220km or so, and then that will be me finished. The likes of Sir Bradley Wiggins and Steve Cummings will be with him at the end.
There is not much glamour involved - I might just keep him out of the wind, stop with him if he needs to take a leak or wait for him if he has a puncture to help pace him back to the peloton.
An open race in Florence
What I am asked to do will depend on our team tactics but that also depends on what the other teams do.
We are not among the favourites, so I don't think I will be riding on the front in the early part of the race - the Italians and the Spanish are the strongest nations, and most suited to the course, so the onus will be on them to control the race a bit more, and maybe the Australians too - however, the starting line-ups will not be finalised until later in the week.
American Greg Lemond was the last man to win the world road race and the Tour in the same year, in 1989. I think that shows what a big achievement it will be if Froome can do it, especially now where everybody follows their own specific programme.
Back in the day, in the 1970s and 80s, everybody would and could ride in every race. Now you target different races and aim to be going well when you get to them, which means you have peaks and dips in your form during the season.
Froomey has won the Tour and is one of the big riders in the race but you have to take into account the schedule of his season - he has not been building up to this race in the same way he would prepare for the Tour de France and there are going to be other guys who are closer to 100%.
He has been under massive pressure all year building up to the Tour, thinking and talking about it all the time, then going there and doing what he did. He needed a break from it all afterwards and to get back and train with the same intensity afterwards is very difficult.
At 90%, Froomey could still win but it would be a huge achievement. It depends so much on where other people are at, and it is an open race because there are a lot of strong riders around.
From what I saw and heard about him at the final Grand Tour of the season - the Vuelta a Espana in August and September, Switzerland's Fabian Cancellara is going really well, and he has been targeting these championships all year, so he will be one of the key riders.

The Colombians will be strong as well and then there is defending world champion Philippe Gilbert of Belgium, who is not a specialist in the mountains but can get over those climbs, as he showed in winning last year's race, and be there at the finish.
World championships like a school reunion
Another reason a lot of riders are in the mix is because this is not going to be like the World Championship race in Copenhagen in 2011, when I was in the team that helped Mark Cavendish win the title.
That one was over a flat course and was pretty much guaranteed to be a bunch finish. You could pick from a handful of sprinters that could win it. This time, there are a few more guys in with a shout.
I think it is pretty unlikely that I am among them, though. I have not had the ideal preparation for the race and I definitely will not be able to last the distance and win it.
After the Tour, I had two weeks completely off the bike and it was quite difficult getting back into it, especially after letting my hair down after a few nights out.
It was good to switch off because of the massive stress that comes with the Tour de France - defending the yellow jersey for Chris and, because of my fractured pelvis, just fighting to get through the race.

There is a long build-up to the Tour, from last November and all the way through the Spring Classics with only a few days off. It was a long old block of training so it was nice to be normal and forget about bike racing for a bit.
I have not watched any recordings of the Tour since I finished it - I don't really do that a lot unless I have had a good ride and want to reminisce a bit.
Maybe I should buy the Tour DVD and and see what actually went on up front because I didn't see much of it this year!
I am back into training now, but I have had a few little things that have affected me here and there - I missed the Vattenfall Cyclassics in Hamburg at the end of August because I had a dodgy gut and then I was on antibiotics for a few days after that.
It has only meant me missing a few days here and there but that can have a big impact, especially when you are chasing your form.
I still feel like I can do a decent job for Chris or whoever is strongest for Britain on the day, though.
And I have been looking forward to the World Championships, because it is a bit like a school reunion. Apart from in the team time trial, you are riding for your country rather than your professional team and that means you are with some of your mates who you have not been with for ages.
I am pleased Steve Cummings is here because I was with him at Barloworld for a couple of years and we are good mates.
For me as a Team Sky rider it is just a case of working under the same people like Rod Ellingworth and Dave Brailsford, but with them wearing a different tracksuit when it is for Great Britain.
Wiggins in good shape for time-trial glory
I have not seen or spoken to Sir Bradley Wiggins for ages because of our schedules, and he is pretty bad on the phone - if you ring him, nine times out of 10 he won't even answer it. You don't get many texts from him either!
The last time I saw him was probably when we were training in Majorca last November. He has been targeting the world time-trial for some time now and, when he puts his mind to something, he usually achieves it.
It will be an exciting race because with Brad, Cancellara and defending champion Tony Martin, you have got three guys who are very fast and who are going very well. One of them will win it, and I think it will be very close.
If Brad wins it, he might see it as another box ticked and move on to something else. That's Brad - he can change his mind quite quickly about what he wants to do.
He has been talking about going back to the track but I think there is so much he can still achieve on the road as well so I guess we will have to wait and see.