Fernando Alonso: Ferrari driver's deal for cycling team collapses
Last updated on .From the section Cycling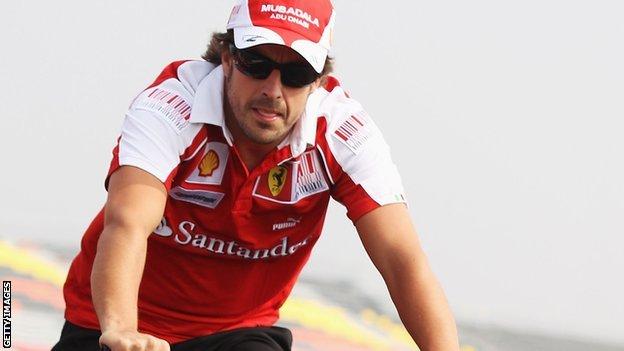 Former Formula 1 world champion Fernando Alonso's deal to buy cycling team Euskaltel-Euskadi has collapsed.
The Basque team may fold at the end of the season after losing its sponsors.
"For Euskaltel and the team this is sad news after the hope generated by the initial agreement reached at the end of August," sponsors Euskaltel said.
"We could not reach a definitive agreement. Euskaltel is now obliged, regrettably, to return to the process of an orderly and responsible closure of the project."
In a statement on his Twitter account, Alonso also expressed regret about the deal's collapse.
"We've tried it until the end but it's just been impossible to have a cycling team in 2014," he said.
"My passion for the sport remains intact so this is only the beginning of the future. We are going to work on building, if needs be from scratch, a team we can be proud of."
Euskaltel-Euskadi are one of the oldest teams in world cycling and Alonso was hoping to ensure the outfit would honour the contract of current riders for the 2014 and 2015 seasons on the International Cycling Union (UCI) WorldTour.
According to the Spanish newspaper El Periodico, Alonso and his backers had initially bid six million euros (£5.1m) for the team's licence and planned to build the team around current leader Samuel Sanchez, who won the men's road race at the 2008 Beijing Olympics.