Brian Cookson elected as UCI president, defeating Pat McQuaid
Last updated on .From the section Cycling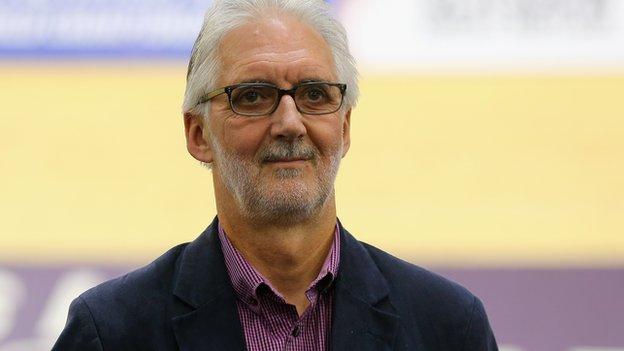 Briton Brian Cookson has been elected president of the International Cycling Union (UCI), beating incumbent Pat McQuaid in a vote on Friday.
McQuaid, 64, was seeking a third term in the role he had held since 2005.
Cookson has been in charge of British Cycling since 1997, presiding over the turn-around of the sport in Britain.
He will step down from that role to take up his new position.
"It is a huge honour to have been elected president of the UCI by my peers and I would like to thank them for the trust they have placed in me today," said Cookson.
"My first priorities as president will be to make anti-doping procedures in cycling fully independent, sit together with key stakeholders in the sport and work with Wada [World Anti-Doping Authority] to ensure a swift investigation into cycling's doping culture.
"It is by doing these things that we will build a firm platform to restore the reputation of our international federation with sponsors, broadcasters, funding partners, host cities and the International Olympic Committee.
"Ultimately, this is how we grow our sport worldwide and get more riders and fans drawn into cycling."
McQuaid said: "That's life, that's the way it goes. Congress has decided.
"They've elected a new president so good luck to the new president, good luck to the new management committee. I'm looking forward to a good holiday, which I badly need."
Under Cookson's leadership, Great Britain won 19 Olympic gold medals and 28 Paralympic golds.
He also oversaw Britain's first win in the Tour de France, Sir Bradley Wiggins tasting success in the 2012 race, followed by Chris Froome a year later.
Cookson served as UCI international commissaire for 23 years between 1986 and 2009, helping to organise, co-ordinate and officiate international cycling races.
"The decision taken today by the UCI represents a turning point for the sport of cycling, and we congratulate Brian Cookson on his election," said British Olympic Association chairman Lord Coe.
"It was with vision, determination and a genuine commitment to work in partnership that Brian was able to lead the transformation of British Cycling, and I am confident he will do the same for the UCI."
Cookson had previously backed McQuaid's re-election campaign, but criticised the Irishman for his handling of the Lance Armstrong doping affair, with Armstrong himself calling McQuaid "pathetic".
Armstrong was stripped of his seven Tour de France titles and given a lifetime ban by the United States Anti-Doping Agency (Usada) in August last year after admitting that he had used performance-enhancing drugs.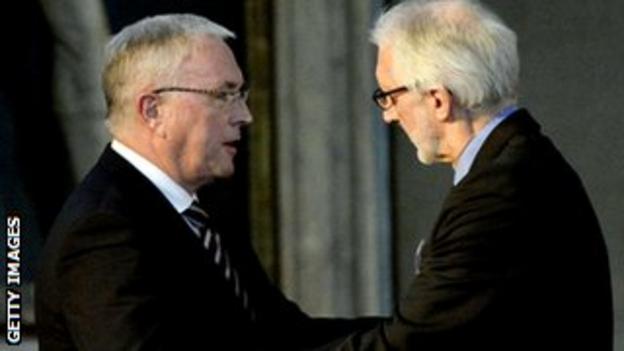 Usada welcomed Cookson's election, saying in a statement: "The outcome of the UCI election sends a powerful message that sport leaders who fail to fully protect the rights of clean athletes and the integrity of their sport will be held accountable.
"The UCI tried to obstruct our investigation into doping in cycling at every turn, and then after the release of our reasoned decision the previous leadership failed to take necessary and decisive action to fully clean up the sport.
"The election of a new UCI President who is committed to transparency and a new direction, is a monumental moment for the sport and demonstrates that when clean athletes stand up for their rights they will be heard."
McQuaid was originally nominated for another term as UCI president by Cycling Ireland, only for the Irish body to then reconsider its decision at an extraordinary general meeting in Dublin.
Switzerland, where he lives, also withdrew support, but he was ultimately allowed to run for re-election with nominations from Thailand and Morocco.
However, there was a long debate over McQuaid's eligibility before the election with numerous delegates speaking from the floor after a series of lawyers addressed the case.
Discussions were finally ended, though, when Cookson got up to urge the 42 UCI delegates to press ahead and cast their votes.
"I think it was a good thing to do," said McQuaid. "We gave an election and we got a result."