Giro d'Italia boss suspended amid financial scandal

Last updated on .From the section Cycling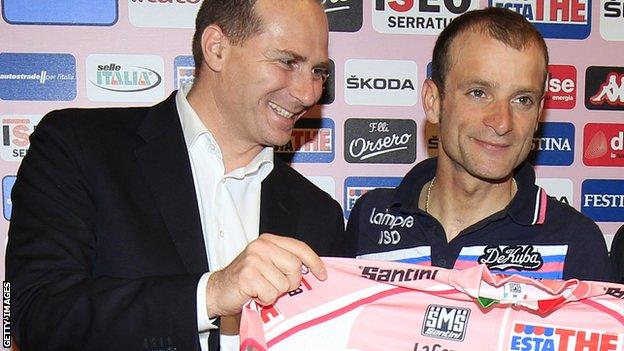 The Giro d'Italia, which starts in Belfast next year, has been plunged into crisis four days before the announcement of the 2014 route.
Race director Michele Acquarone has been suspended from his role as chief operating officer at the company that organises the Giro, RCS Sport.
It was revealed on Monday that up to £11m was missing from the firm's books.
As well as the Giro, RCS Sport also runs Sunday's Giro di Lombardia, the last big one-day race of the season.
Details of next year's first three stages have already been revealed - a 22km time trial around Belfast, a loop around Northern Ireland's scenic north coast and a cross-border ride to Dublin - with the race starting on Friday, 9 May.
But the remaining Italian stages will be announced at what was supposed to be a glittering launch party in Milan on Monday. That occasion will now be completely overshadowed by recent developments.
According to the Italian financial paper Milano Finanza, and since confirmed by RCS Sport, Acquarone and former chief executive Giacomo Catano have been suspended on a "precautionary, not disciplinary basis".
New chief executive Riccardo Taranto has been brought in to lead an internal investigation into the financial scandal. Initial reports suggest the money has disappeared from companies associated with RCS Sport, but not from the cycling division.
RCS Sport is part of the larger RCS MediaGroup business, which owns leading Italian newspapers Corriere della Sera and Gazzetto dello Sport, numerous magazines, book publishers and advertising brands.
RCS Sport's biggest money-spinners are its bike races, but it also organises mass-participation events like the Milan City Marathon, as well as advising Italy's basketball and football federations.
The three-week-long Giro is one of cycling's three Grand Tours and has been running since 1909.
For many years it was the equal of the Tour de France but has in recent decades fallen behind the French epic in terms of global stature. Taking the race to new countries, as Le Tour has, is a key part of RCS Sport's strategy to revitalise its fortunes.
The stages in Northern Ireland and Ireland will be the first time the Giro has left continental Europe, and the Northern Irish government is paying £3m for the privilege.
In what promises to be an exciting year for cycling fans from these islands, the 2014 Tour de France starts in Yorkshire, with a third stage finishing in London.