Brian Cookson contacts Wada for investigation into UCI
Last updated on .From the section Cycling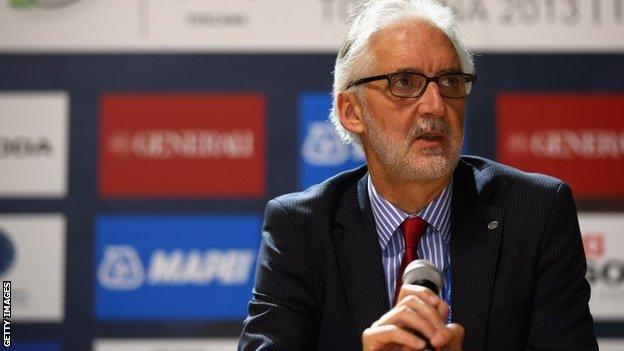 New International Cycling Union (UCI) president Brian Cookson has contacted the World Anti-Doping Agency to start talks over an independent investigation into the sport's governing body.
"We've started the work of establishing dialogue with Wada to plan how we will proceed with the independent investigation into the UCI's past," said Cookson.
"We have also been making contact with other key stakeholders in this area, including Usada [United States Anti-Doping Authority], other national anti-doping organisations and the French sports ministry."
Englishman Cookson, 62, who was the former president of British Cycling, also confirmed the decision to "revoke the age limit of 28 that existed for UCI women's teams".
Up until now most riders in a women's team competing at a UCI event have had to be aged below 28. He also said there were plans to form a new commission for women's cycling "to help facilitate the growth of women's elite racing".
Meanwhile, Cookson said the UCI had withdrawn legal action against journalist Paul Kimmage.
In January 2012, former UCI presidents Pat McQuaid, who Cookson replaced, and Hein Verbruggen initiated legal proceedings against Kimmage, claiming they were defamed by articles in the Sunday Times and L'Equipe which discussed doping and the governing body.
Kimmage said: "I am very relieved, it has been a very difficult 20 months and I hope this means things have turned a corner.
"Brian Cookson has my every best wish but he is going to need some time and space to clear up the mess.
"I do believe however that Hein Verbruggen should be removed absolutely from any position at the UCI."