Team UK Youth: Yanto Barker takes up search for new team
By Phil Harlow
BBC South West Sport
Last updated on .From the section Cycling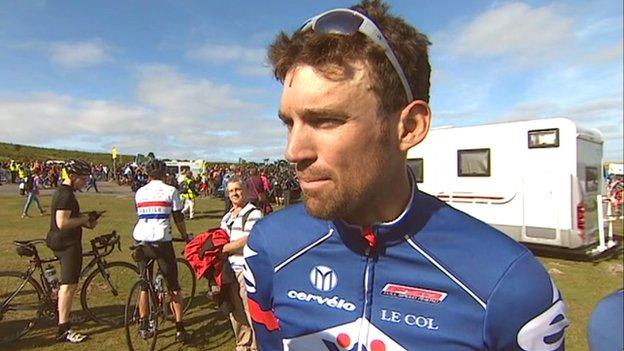 Yanto Barker, British Cycling's top-ranked cyclist for 2013, is still looking for a team for next season following the demise of Team UK Youth.
"It's pretty frustrating, particularly after such a positive and successful year," he told BBC South West Sport.
"Cycling's such a big part of my life. I don't want to stop so abruptly."
The 33-year-old runs his own sportswear brand and has also worked extensively within the media, but his first love is racing bikes.
"It's not like I rely on cycling entirely for my income," he said.
"But genetically deep, deep down I am a competitive cyclist. Some people have said it's a good chance to focus more on the business - but my response is that I already focus enough on it and cycling is a release for me.
"I'm still very fit and healthy in terms of my physical abilities and mentally I'm a competitive cyclist. I need to give myself a bit of time to adapt to not being a professional cyclist."
Team UK Youth enjoyed their most successful season in 2013 with Barker at the forefront. He won two stages of the Tour Series as well as the UCS Grand Prix in Ipswich on his way to topping the rankings.
Like many of those involved, Barker was astonished that one of Britain's top teams in a sport which is enjoying record levels of media interest and participation was unable to attract another headline sponsor after Mansell's withdrawal.
"Normally, when you're looking for a sponsor, you say: 'If we do a good job, it could be a good investment for you'," said Barker.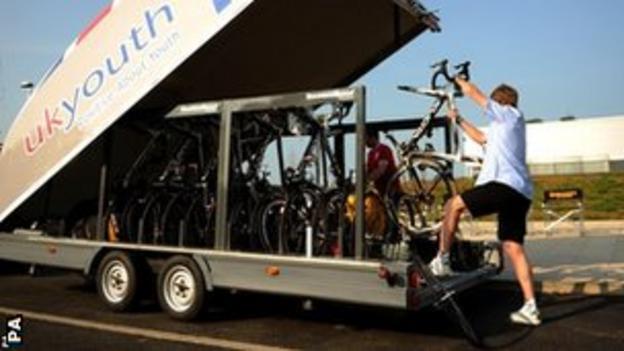 "We were able to say: 'We tick every box in terms of PR, success, positive messages, not to mention having a prominent public figure in Nigel Mansell. Would you like to be part of the success that we have already proven we can deliver?'
"Looking at it from the outside, it is difficult to come to terms with that."
Barker said the timing of the news had made life difficult for the riders and staff to find new contracts.
"The news was so late that it has made it very hard to get a spot - it's certainly not been as easy as it might have been," he said.
"I understand the dynamics of how teams fill their places. Everybody tries to get the best they can get for the spend they have. Had it been known there wasn't going to be a team earlier, say August or September, it would have been much, much easier to have those conversations.
"I've been through the emotional rainbow. From being angry, disappointed and sad to also being quite philosophical about it. I've resigned myself to the fact that this sort of thing does happen.
"I had a long conversation with Nigel about the prospects of the team continuing and I chose to wait. I don't regret that because we needed enough people to hold on to give us a chance, if we did continue, to do something similar to what we achieved this year.
"I've been quite disciplined about not letting myself be too grumpy. I made my choices and I had a fair understanding of the implications of those choices at the time and so this is a situation that I'm in and it's not ideal but I'm by no means demoralised or bitter about it. It's a challenge that needs to be overcome."
Barker, who praised Mansell as "an amazing man to work for", said the knowledge and skills he had gained during his time at Team UK Youth would be transferable to other teams.
"I'd clocked that there was a way to do things to achieve certain success and Nigel really affirmed that," he said.
"As a team captain I know that there is a way of doing things and I'll hopefully be in a position to at least share what I've learned and bring that to another team and that would be a new challenge which I would relish."