Ryder Hesjedal: Giro d'Italia winner admits past doping
Last updated on .From the section Cycling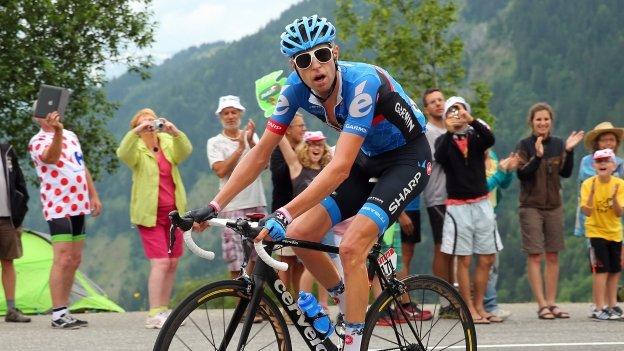 Canadian cyclist Ryder Hesjedal, winner of the 2012 Giro d'Italia, has admitted doping "more than 10 years ago".
The 32-year-old Garmin-Sharp rider responded to allegations by Dane Michael Rasmussen, who said earlier that he taught Hesjedal how to take the banned blood-booster EPO in 2003.
Rasmussen was at Rabobank at the time, while Hesjedal was a mountain bike rider in their development team.
"More than a decade ago I chose the wrong path," said Hesjedal.
"Even though those mistakes happened more than 10 years ago, and they were short-lived, it does not change the fact I made them and I have lived with that and been sorry for it ever since.
"I believe that being truthful will help the sport continue to move forward, and over a year ago when I was contacted by anti-doping authorities, I was open and honest about my past."
Hesjedal was one of several riders and managers called to testify by the US Anti-Doping Agency (Usada) in the case against Lance Armstrong, who was stripped of his seven Tour de France titles for doping.
Hesjedal was one of Armstrong's team-mates at U.S. Postal and Discovery Channel in 2004 and 2005.
However, he is confident the sport is now on the right path and his current team are backing their rider.
"As we have previously stated, our expectation is that anyone in our organisation contacted by any anti-doping authority must be open and honest with that authority," said a Garmin statement.
"Ryder is no exception and a year ago when he was contacted he cooperated fully and truthfully testified to Usada and CCES (Canadian Centre for Ethics in Sport).
"For this reason and because of our desire for 100% truth and reconciliation in the sport of cycling, we support him."
Rasmussen admitted earlier this year that he had doped throughout his 12-year professional career, from 1998 to 2010.