Track Cycling World Cup: Winning Olympic gold and fighting crime
By Ollie Williams
BBC Olympic sports reporter
Last updated on .From the section Cycling
You are in the away end at a Premier League football match. You glance at the police officer keeping an eye on the crowd… and it's Victoria Pendleton.
"I've arrested two people. It was pretty funny," Welte tells BBC Sport, adding hastily: "For them it was bad."
The duo stunned their rivals in 2012 when they won the team sprint world title, then Olympic gold in London, despite the likes of China and Britain being considered better bets.
They won world gold again earlier this year, but have been building careers in the police force all the while.
"I started with the police in 2008," says Welte, 26, who is Germany's "man one" - the rider at the head of the team, the equivalent of Britain's Jess Varnish.
"Now I'm a full police officer. When I'm at home I work 10 to 15 hours per week, and the rest I have for cycling. I'm with the part of the police which goes to soccer games and demonstrations, stuff like that."
Does she ever get recognised as an Olympic champion by fans?
"I live in a small town - we have about 100,000 inhabitants - and I know so many people around there. They see me [at the game] and say, 'Oh, you're working today. Have fun.'"
Vogel, 22, explains how she fends off passengers when working at Erfurt airport.
Passenger: "Are you Kristina Vogel, the Olympic champion?"
Vogel: "Yes. But I have to do this." She mimes flicking through a passport. "Sorry."
Welte and Vogel, who have been racing together since 2008, make an impressive team on and off the track.
As they talk each neatly picks up where the other left off, appearing bright and bubbly as they head into the weekend's Track World Cup in Manchester.
"We're really looking forward to the crowd," says Vogel. "It's always amazing to ride in Manchester, or any town in Great Britain."
Britain is home to their happiest memories, on top of the Olympic team sprint podium, but that victory came in odd circumstances.
"We got into the final because the British team was disqualified," recalls Welte. GB had been punished by officials for an illegal change-over in their semi-final - Pendleton took over from Varnish a fraction too early, and they were thrown out. That elevated Germany to the final, against China.
"I went to [British coaches] Jan van Eijden and Iain Dyer and said, 'It's not the way we want to get a medal' but they made the mistake," Welte continues.
"Then we got silver - but the Chinese girls were relegated [for the same offence as the Brits] and we got the gold medal. It was a crazy day. We thought it would be the bronze-medal race against the Australians, then the silver, then we got gold."
Vogel agrees: "It was weird. You want to ride over the finish line and win, it's a better feeling."
Happily for them, that is what happened a year later. At the 2013 World Championships in Belarus, the Germans again met China in the final. This time they won the conventional way, without outside intervention.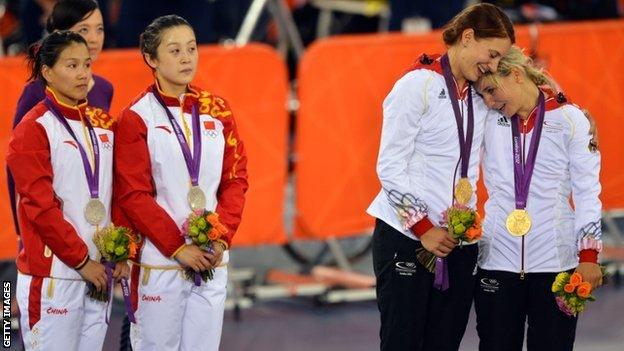 "That was so important for us," says Welte. "Lots of people said we just won the Olympic gold medal because of the relegation of China, that they were stronger than us. When we were the fastest in Minsk, in qualification, I said to Kristina: 'We are going to take this gold medal today and show all the world we are the best team.'"
The duo are now focused on retaining their Olympic title in Rio. "There's a bet with our mechanics," says Vogel, "that I will dance in a coconut bra if we get the gold medal."
Vogel, who was born in Kyrgyzstan before her parents moved to Germany when she was six months old, held no such exotic ambitions after a collision left her in a coma four years ago. But how she responded showed the depth of her desire for success.
"I did a road ride and a car hit me," she recalls. "I was in a coma for two days and spent four weeks in hospital with a lot of broken things. I lost six of my teeth. It was quite a dark moment in my career."
Welte remembers the day clearly: "I got a message from Kristina's boyfriend and he said, 'She isn't well, we don't know what happened but she's going to be in a coma.' There were a few days where none of us knew if she would be good enough to come back to the track…"
"Or good enough to walk," finishes Vogel, plaintively. "It was a hard time, but a lovely time - so many flowers from the Australian guys, and the Dutch team.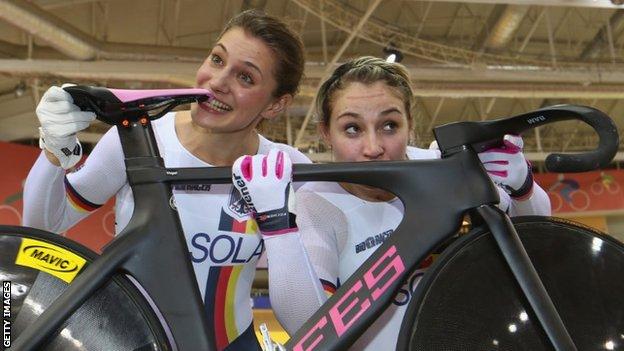 "It was good to see that other countries - other riders - really cared that I'd had a bad moment. It made me stronger.
"My coach was with me [in the hospital] and I couldn't speak, but I wrote on a piece of paper that I really wanted to ride at the World Championships.
"My first question after I woke up from the coma was: can I have a new bike? Then, which hospital am I in?"
Says Welte: "It was hard for me, I couldn't do anything for her except wait. But she's back. And it's been good."