Team Raleigh: Yanto Barker excited by new challenge
By Phil Harlow
BBC South West Sport
Last updated on .From the section Cycling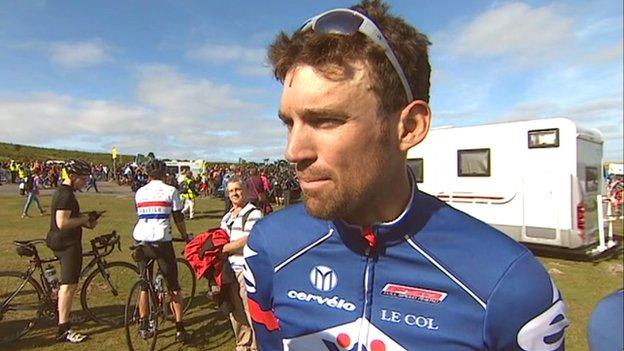 Yanto Barker, British Cycling's top-ranked rider for 2013, says he is "very motivated" to repeat last season's success after joining Team Raleigh.
The 33-year-old had been without a contract for 2014 after the demise of former employers Team UK Youth.
"I'm grateful and satisfied, that's the best way to describe it," he told BBC South West Sport.
"I'm very motivated to achieve some proper success and contribute something similar to this year."
He added: "I enjoy that and I relish the opportunity to do it again."
Barker has joined the British outfit together with his former Team UK Youth team-mate Ian Wilkinson, Joseph Perrett, Liam Stones and George Atkins.
He had been left in an awkward position with the news of Team UK Youth's struggles - following the decision of owner Nigel Mansell to withdraw funding after four years - emerging at a time in the cycling calendar when most teams had already made many of their rider recruitment decisions.
"I wasn't actually talking to that many teams," said Barker, who won two stages of the 2013 Tour Series as part of a consistently successful season.
"There wasn't a lot of teams by the time I was talking to people who still had positions left on the roster.
"I'm really grateful and we've managed to get a deal together that works for everybody and I'm excited about it."
Barker will now be competing against many of his former team-mates, but he said he was looking forward to the prospect.
"I don't think there'll ever be a year like next year when I'll have so many good friends in other teams," he said.
"But we're competitive cyclists and there's an autopilot that kicks in that you want to beat everybody, there's a huge sense of competitive spirit, determination and drive that won't get hindered in the slightest just because you know the guys.
"We've been joking that all hell's going to break loose and I believe we'll see a lot of each other at the front of race and it'll be a lot of fun.
"I'm excited about the prospect of working with the guys in Raleigh. I've seen the full roster and I think we can achieve more than people would expect which is similar to 2013."
Team Raleigh 2014 squad:
Evan Oliphant, Mark Christian, Alexandre Blain, George Atkins, Morgan Kneisky, Ian Wilkinson, Liam Stones, Matthieu Boulo, Joseph Perrett, Yanto Barker.