Rab Wardell wheeling for Glasgow mountain bike spot in 2014
By Keir Murray & Paul Bradley
BBC Scotland
Last updated on .From the section Cycling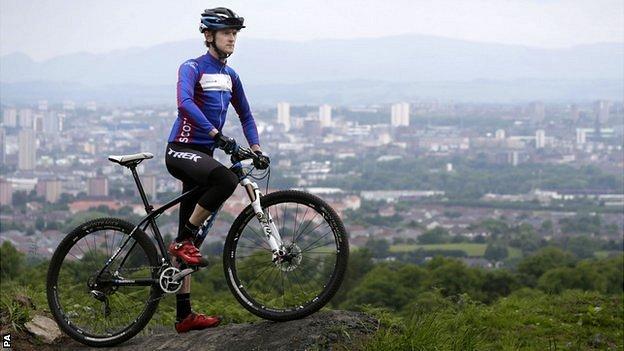 Spending time with Rab Wardell allows you to see just how much he loves cycling.
One might expect nothing less of a professional rider, but his concern for the participation levels in his chosen sport goes beyond, one suspects, that of, say, the well-paid footballer or the pampered golfer.
Although purportedly taking an end-of-season break, the Glasgow-based Fifer is raving about the interest he witnessed in the track league at the velodrome, which can be seen from the Cathkin Braes mountain bike course on the south side of Glasgow where he greets have-a-go riders with genuine warmth.
Some are pensioners, others are schoolchildren on an activity break; all are welcomed by a rider hoping to race there at next year's Commonwealth Games.
He is pleased to see people using the course he had a hand in designing.
While working as a coach at Scottish Cycling, Wardell was used as a consultant on the course's lay-out, or "allowed to give my opinion on it", as the 28-year-old modestly puts it.
He has the Games and finding a new team for 2014 on his mind, but he is as happy to talk about cycling facilities in his adopted home city.
"I think it's perfect for the Games and it's a brilliant legacy for the people of Glasgow to use," he says of the mountain bike course, which, like many Games venues, is already available for the public to use.
Mountain biking and cross-country cycling are Wardell's disciplines, but he took to the asphalt in the summer for the British Road Race Championships in Glasgow.
He was never likely to threaten eventual winner Mark Cavendish in a charge to the finish line but he did manage to thrill the crowds nonetheless - by doing a wheelie up Montrose Street, a sickeningly steep city centre climb.
"A few people liked that," he says with a smile. "I'd much rather have been having a good result but at least I could do something to get a cheer!"
Wardell has been riding for Trek in recent years but that deal ends in December.
"Fingers crossed I'll have something in place before Christmas and then I can focus on training and racing again," he says. "I'd like to think that I can offer something."
Certainly, his CV suggests that he can.
Wardell represented Scotland at the Melbourne Commonwealth Games in 2006, though did not finish the race, and is vying for a 2014 place (there was no mountain bike event at the Delhi Games).
He is the current Scottish cyclocross champion, finished 11th in the British Mountain Bike Championships this year and in recent months has been competing in China, Malaysia and Brazil.
Next month, he and his fellow Commonwealth mountain bike hopefuls head to Spain with road racers such as David Millar, Andy Fenn, James McCallum and Evan Oliphant as part of a Scotland warm-weather training camp.
"It's the first real big block of training for me going into next year and it will be useful to ride with such experienced riders," says Wardell.
"I'm looking to race quite a heavy programme early season to gain the qualification standards and make sure I earn my place.
"There's really tough competition, with six or seven riders going for three places. It's going to be tough but we'll have a great team for Scotland."
Team GB riders Grant Ferguson - "a huge talent" - and Kenta Gallagher, his good friend Gareth Montgomerie (13th in Melbourne) and brothers Hamish and Sebastian Batchelor provide stern opposition for a Games place.
He is conscious, too, of the challenge by young Ben Wyvis Cycle Club riders Iain Paton and Tom Evans.
He describes his recent globe-trotting as "a really good way to finish the season, with some good results" (he finished just outside the top 10 in China, Malaysia and Brazil).
At the Chinese Guiyang International Mountain Bike Invitational, a short track event was followed by Olympic cross-country racing, which also featured in the stages in the six-day Langkawi International Mountain Bike Challenge and the week-long race in South America.
The longest stage in the latter was won in almost six hours of cycling, but the Commonwealth Games ride will be shorter at about 90-100 minutes.
"The race in 2014 will be really fast and exciting," he suggests.
"With this track there is certainly an element of tactics.
"It's almost like a road race when you're competing on it. At the British National Championships there was group racing; there weren't riders on their own able to ride away.
"You have to really time your efforts. Any mistake costs you a lot. If you crash and lose 10 seconds, it's really difficult to close that gap again.
"You need to be consistent, skilful and fit because the pace is going to be incredible; you need to be a good all-rounder."
Wardell envisages a group of 10-15 riders forming from the mass start as they tackle the opening loop.
He adds: "There's maybe only a minute-and-a-half of riding before it filters down into single track. If you're far back at that point you've got your work cut out.
"The start is always exciting in a mountain bike race."
The thrill of racing is undiminished for Wardell. Just like those mountain bikers jostling for position in the opening burst, he must hope he times his run in 2014 to perfection.