Chris Froome: The making of a Tour de France champion

By Tom Fordyce
Chief sports writer
Last updated on .From the section Cycling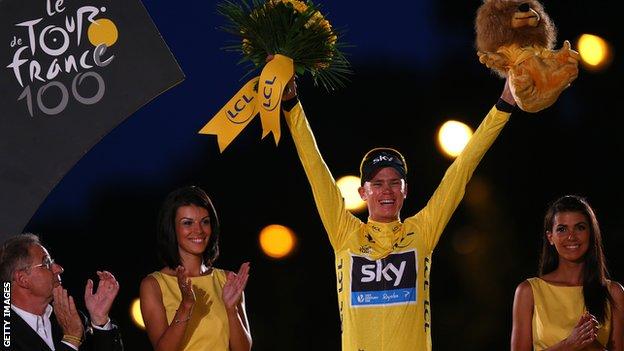 Where does the road to Paris begin? For Chris Froome, in a small corrugated iron hut, with no running water and only a long-drop toilet, in a small village called Mai-a-Ihii, high in the red-dirt hills of Kenya's Rift Valley.
There are more auspicious breeding grounds for Tour de France champions. Out in the dusty street, equatorial sun scorching the hard-packed earth, kids play sword-fights with sticks. Goats clink about under the trees. The shouts of a pumped-up Sunday preacher drift across from a hall up the road.
Down an alley, round a tight corner. Push open a door, and there it is: a pair of bunk-beds, two racing bikes hanging from the low roof; a punctured inner tube draped on a hook, dirty cycling socks drying stiff on the bare concrete floor.
This is the room where Froome, from the age of 13 to long past his 21st birthday, would come to stay for weeks at a time, training obsessively, absorbing his trade. And at the end of a year that saw him pedal up the Champs-Elysees as the dominant winner of the world's greatest bike race, he has come back - back for a reunion with an old friend and mentor, back to the start of it all.
Froome's early childhood can seem like something out of Huckleberry Finn. He caught pythons, hunted wild ducks, avoided his mother when the snakes escaped and crawled into her bed. There was only one rule: be home before sunset. But it was when he discovered cycling that he first truly found his place in the world.
"It was my eighth birthday, out on my bike with a group of friends, going down the Ngong Hills," he says.
"We descended for about 30 kilometres. I remember getting up to speeds that scared the daylight out of me. And that was it - an amazing sensation, feeling the wind rushing, and being able to do it on my own. No car, no mummy or daddy driving you anywhere, just you in control. And I loved that."
At 13 he entered a charity race. Despite being knocked off by his own mother, driving alongside to check if he was OK, he limped across the line in first place. More importantly, he was introduced to David Kinjah - pretty much Kenya's only elite cyclist, owner of that little house up in the hills.
"After the ride he said, 'You're riding pretty well, you should come to train with us,'" remembers Froome. "So I did. I would spend two weeks with Mum and two weeks with Kinjah and his riders. And those were the weeks I really looked forward to."
Kinjah appreciates a trier. He had once travelled all the way to France for a world championships despite not having a bike. He finished last. But in a running-obsessed nation, he was the sole cycling supremo.
"Chris would barely say a word to me," he says, leaning against the wall of his house, dreadlocks tucked under a back-to-front cycling cap. "I didn't imagine he would be a serious rider. I thought it was his mother pushing him, but it turned out to be the other way round.
"The mother was worried that it was too remote. Just lots of trees and a few houses. Then Chris came, and I could see in his eyes - 'This is what I wanted.'
"We included him in everything we did: the riding, the cooking, playing football, mending the bikes. The mother was always worried, but she got used to it. She let him be free.
"It was very unusual. We were hard-core village guys, guys not afraid to ride against the traffic. It was a sport for guys who were ready to shout at car drivers, so I thought it would be a problem for him. But he wasn't scared of anything."
The raggle-taggle group, all on basic mountain bikes, would head off on brutal 200km epics - pedalling along dirt roads at altitudes of 2,000m and beyond, riding all day to the house of a Kinjah relative in a distant district and coming back with one kid just about hanging on.
"It was pretty brutal," admits Froome. "If I looked back I wouldn't tell any 15-year-old to do it now. They would all drop me. I couldn't keep up with any of them. I used to get pushed the last 30kms. I would be absolutely finished. But I loved it.
"I was the only white kid there, and I got a hard time from some of them. But it was always fun, and in a way I idolised them. I just wanted to get to the point where I could keep up with them on a ride."
BREAKING DOWN THE BARRIERS
Why did he carry on? Why did he spurn the bright lights and easy life in Nairobi that most white kids enjoyed and choose instead the lonely purgatory of the Rift Valley?
The stereotype of Tour heroes past is of working-class kids fighting to escape the restrictions of their roots. Jacques Anquetil was the son of a struggling builder, Raymond Poulidor of poor farmers. Lance Armstrong, as his self-created myth goes, the single-parent child at war with the cruel outside world.
Froome - privately educated, with two brothers at Rugby in England - had none of that. But he had an obsessive streak. And, for reasons he cannot quite explain, he could soak up pain in a way that his brothers and contemporaries in the UK could never imagine.
"I had phases I would go through," he says. "I'd become fixated on something, and eat and sleep it for months.
"I went through a stage of butterfly collecting, and basically all I did for months on end was go out with this net and catch butterflies, all round Kenya. I don't know why.
"Cycling, once I'd seen the competitive side of it, became a very similar thing. I became fixed on bikes. Any time I had to myself I was reading articles about training or nutrition or new products, learning about the sport."
Then there was the stoicism. Aged 16, on a Christmas Day trip to the coast with his family, he went for a long run along the beach to burn off the anticipated big lunch.
"As I ran I sort of stumbled, and suddenly I'm stuck in the beach. It was a harpoon, half buried in the sand, and I'd trodden right on it. I sat there and tried to get the harpoon out, but it was wedged so deep. There was a barb on it too, so I couldn't just pull it out."
With the help of a passer-by he managed to snap the harpoon's shaft. With no hospital for miles he struggled to a tiny local clinic, housed in a tin hut harpoon still sticking out of his foot.
"The old chap there looked at it and told me there was no way we could pull it out, because it would do too much damage. We'd have to cut it out, from the middle of my foot up to my toes. He just took a razor blade and cut open my foot. I sat there watching him do it."
He grins faintly. "Not a nice way to spend Christmas. But we still had a good lunch. And it does make temporary pain when climbing a mountain stage like Ventoux seem pretty insignificant."
These are not unusual tales for Froome. Most elite sportsmen have had to surmount significant barriers to get to the top. Summits are not reached with a stroll. But Froome's reserved, relentless determination makes you pause and think, why didn't he stop there? How far would I have gone before accepting that it wasn't going to happen?
Take, for example, his eventual international bow, in the under-23 time trial at the 2006 Worlds, when he blagged an entry by commandeering the private email of the Kenyan Cycling Federation's chairman ("I didn't ask him. I told him once I'd been accepted, and he was actually quite happy because it made him look good that he was sending a rider to the Worlds").
It hardly worked out. Without team-mates, manager or mechanics, staying in the cheapest B&B he could find, he got lost en route to the pre-race meeting and then crashed into a marshal within seconds of leaving the start ramp, sending both men crashing to the tarmac.
Then there was his first pro contract, a typically spartan neo-pro's deal with the low-key Barloworld team, having emailed every manager and squad on the circuit for month after month, this time from his own email account.
He was determined to make it count ("I thought, right, I'm through the door, now I've got to show people what I can do.") He moved to Italy and prepared for his Tour debut. And then the news from Nairobi: his mother Jane had been diagnosed with terminal cancer.
It took less than six weeks. "I was racing in Spain at the time, and I pulled out of the race to come home to Kenya to be with my brothers and the rest of the family," he says.
"It was 10 days before the start of the Tour. I'd assumed I wouldn't be riding. No-one had told me I was. Then I got the phone call: 'Froome, you're going.'
"I felt like saying, you're crazy, I'm in no shape to ride. I thought about it for 24 hours. And I thought, this is probably what I need to get my life back on track. If my mother was still around it's what she wanted me to do. So I went."
That first Tour proved a brutal baptism, a flat-out fight to hang on to the gruppetto, a daily struggle to survive amongst the fittest. Only three of his team-mates would make it to Paris alongside him.
Even after signing for Team Sky the barriers kept appearing: an exhausting struggle against the parasitic disease bilharzia; a debilitating allergic reaction to the latex in his cycling kit which brings his skin out in vicious welts.
The bilharzia he has to control with regular medication ("these pretty nasty pills which kill everything in your system, good and bad"). The allergy, which is getting worse, peaks when it is hot and humid - in other words, exactly the conditions he encounters in big stage races.
"He's the most stubborn person I know," Froome's partner Michelle Cound tells me later in the day. "He's just so focused on what he wants, and he'll do anything to get there."
THE REWARD
Among the spare parts and buckets of dirty kit lying around in Kinjah's house are a few more prized items.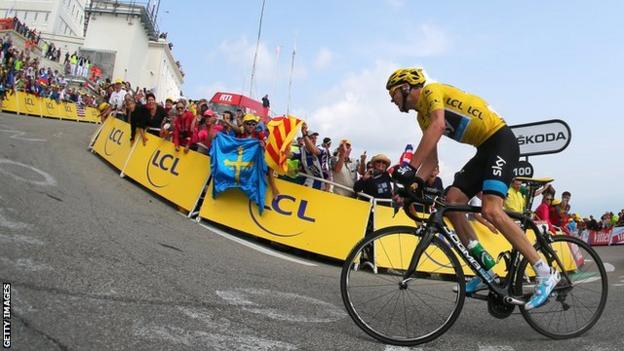 On one wall, opposite a large poster of one-hit hip-hop clowns Kris Kross, is a race number with the London 2012 logo at the top and the words C FROOME 032 in large black capitals. In another corner, freshly delivered, is a neat pile of folded Team Sky skinsuits, a stylised 'Le Tour de France 100' just visible on the chest of the top jersey.
Such was Froome's supremacy in this year's edition of the great race that l'Equipe described him as pedalling "as if his chain had snapped" as he rode away from rivals Alberto Contador and Nairo Quintana during his seminal stage win on Mont Ventoux.
Froome is a natural climber. He is also instinctively good at forcing himself beyond the point where most consider themselves beaten.
"I had to go onto an oxygen inhaler at the finish," he recalls, four months and four thousand miles away, as Kinjah's current crop of young protegees fiddle with their bikes around him and shyly wait for autographs.
"My lungs had shut down. Your legs are burning, your back is aching. But I had the thought that if I was feeling like that, then I'm pretty sure every other guy is feeling like that, if not worse.
"You need to embrace that feeling, just keep pushing on. 'This is where it counts, this is why you've done all that training and all that preparation. This last part of the climb is what counts. This is where I'm going to win the Tour de France.'
"There are times where I'm alone, in the last few kilometres of a race, and I feel, okay, I'm in front, I can relax now.
"And then I think, don't you dare relax. Don't you dare. You've worked so hard for this. Get right across the line before you relax. Of course you're hurting now. But it will feel so much better."
Was his triumph in Paris as deeply satisfying as he had imagined it would be all those years ago, pedalling the dirt roads of Ngong with Kinjah, dreaming of the day he might somehow make it to the European circuit, let alone the maillot jaune?
There are athletes who find only confusion and disappointment when they finally crest the summit, the realisation of their overarching goal leaving them neither satiated nor eternally content.
There is a theory too that Froome is the Buzz Aldrin to Bradley Wiggins's Neil Armstrong. The first British man to win the Tour in its 110-year history will forever be a household name. But who remembers the second man on the Moon?
Froome blinks. "I beg to differ," he says. "I really thought it was so worth it. The feeling I got after winning the Tour… I'd go back and do it any day.
"All those hours of training, all the sacrifices of friends and family… Cycling takes over your life, for years, to get to this kind of level. It would be easy for someone to say, it's not worth giving up all that you have for one bike race in France. But it was so worth it."
Can he still enjoy cycling as he used to, when he was haring along the Rift Valley with his mates? Does the 28-year-old Froome, wired up to power-meters and heart-rate monitors, tucked over his time-trial bars in wind tunnels, mobbed by a scrum of reporters whenever he steps off the Team Sky bus, still live for every liberated moment in the saddle as he did when he first set foot in Mai-a-Ihii?
"It definitely does change the dynamics, measuring everything we're doing. But the fundamentals remain the same. You're out there, in the middle of nature, just enjoying your heart beating. That doesn't change.
"It's definitely more like work, because we're timing everything and doing specific efforts, and I can't just go off down dirt roads and jump over ant hills. It's a lot more serious now. But the fundamentals remain the same."