Lance Armstrong settles $3m bonuses lawsuit
Last updated on .From the section Cycling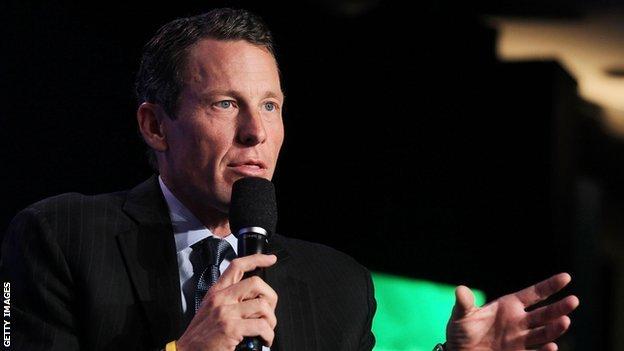 Former cyclist Lance Armstrong has settled a lawsuit brought by an insurance company that paid him $3m (£1.9m) for successes while doping.
The American was stripped of his seven Tour de France titles before admitting he took performance-enhancing drugs.
Nebraska-based Acceptance Insurance said the Texan's drug use meant their policy with him was void.
Armstrong, 42, faces two bigger legal claims - from another insurance firm, and a 'whistleblowing' case.
He is being sued for sponsorship money that his US Postal team received from 1998 to 2004.
The US Justice Department, which paid his team about $40m through its postal service sponsorship, announced in February it would join the 2010 'whistleblowing' lawsuit filed by ex-US Postal rider Floyd Landis, who himself admitted using drugs throughout his career.
A federal judge is expected to rule on Armstrong's request to dismiss that suit in the next 30 days.
Meanwhile, Texas-based company SCA Promotions is pursuing a lawsuit aimed at recouping $12m over insured bonuses paid to Armstrong when he claimed his fourth, fifth and sixth Tour de France wins.
The disgraced cyclist's settlement with Acceptance Insurance comes a day before he was due to give sworn testimony in court over that case.
He was banned for life by the United States Anti-Doping Agency in August 2012 and stripped of the seven Tour de France titles he won between 1999 and 2005.
Armstrong, who also had to return the time-trial bronze medal he won at the 2000 Olympics after his confession to television host Oprah Winfrey in January, was reported to be worth $125m (£78m) earlier this year.
Last week he told the BBC he would testify with "100% transparency and honesty" at any future inquiry into doping.