Commonwealth mountain Biker Rab Wardell joins Orange Monkey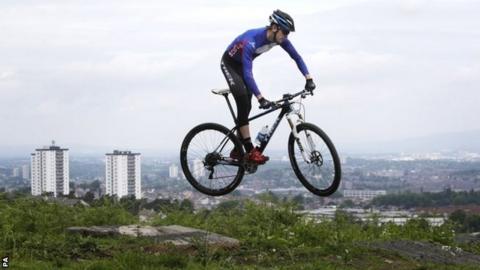 Glasgow-based mountain biker Rab Wardell will mark his 10th season as an elite racer by riding for UK professional outfit Orange Monkey.
It is welcome news for the 28-year-old as he tries to clinch a place once more in Scotland's Commonwealth Games team.
Wardell had been looking for a new team after Trek Factory Racing trimmed its cross country programme to focus on the road, cyclocross and enduro market.
"I've been impressed with Orange Monkey's vision," said the rider.
"I'm really looking forward to the coming year.
"To have the chance to join them in what is both our 10th year in professional cycling is perfect.
"The programme of races is just brilliant and offers me the opportunities I need to progress and to earn the right to race for Scotland.
"It gives me the chance to travel, to ride and compete with people from different cultures and backgrounds, which is important to me."
Wardell will make his debut for the UCI Mountain Bike Team at Dig in at the Dock in Bo'ness on Sunday, a leading cyclocross race in Scotland, and will then contest the British Cyclocross Championships in Derby.
He will then resume training for a heavy mountain bike programme in South Africa and Europe, running from March to May, which includes racing the Absa Cape Epic in South Africa alongside team-mate Ben Roff.
The time spent in South Africa will offer a number of Glasgow 2014 qualification opportunities, including the opening round of the UCI World Cup in Pietermaritzberg.
The rest of the year will be a mix of British Cycling Cross Country Series, UCI World Cups and, if selected, the Commonwealth Games at the end of July.
Wardell, who raced for Scotland at the Melbourne Commonwealth Games in 2006, will be involved in helping Orange Monkey cultivate new riding talent.
He said: "It's exciting to be able to offer some assistance in the development of younger riders and I am really looking forward to racing the Absa Cape Epic with Ben.
"He is improving all the time and was particularly impressive in Langkawi at the end of 2013.
"I'm sure that with Dave Fletcher, Ben and I in the elite races at the British Cycling Cross Country Series we will be pushing to have riders on the steps of the podium at every round."