Geraint Thomas faces big decision as 2014 road season begins

By Geraint Thomas
Double Olympic pursuit champion and Team Sky rider
Last updated on .From the section Cycling18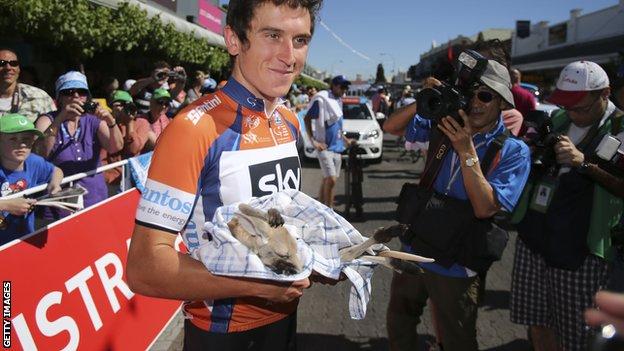 Britain's double Olympic track champion and Team Sky road cyclist Geraint Thomas is preparing to start his 2014 season in the Tour Down Under, which begins in Australia on 19 January. In his first BBC Sport column of the year, the Welshman outlines his goals for the year and the choices he faces in his career.
My season starts on Sunday when the Tour Down Under begins in Australia and I cannot wait to get going because 2014 is going to be a massive year for me.
I am 27 and getting close to the time where I have to decide which route I go down in my career, and what happens in the next few months will help me make up my mind.
As a rider, my priorities have definitely changed since I first turned professional aged 20 in 2007.
Back then, I was pretty much a track rider, looking towards the 2008 Beijing Olympics and the team pursuit, and my thinking was totally geared towards the velodrome.
I rode the Tour de France in that first year and I obviously loved it, but the road was a secondary thing. I just did it because I could, really.
Now my focus is totally on the road and, over the next couple of years, that is where I will be full-time, trying to figure out where my strengths lie.
There are two directions I can take.
One would be stage racing, with me looking to be the man going for the general classification win rather than being a support rider as I have been in the past.
The other is to be the kind of rider that specialises in the classics - the one-day races in the spring of each year.
At the moment, I am still pretty keen to do both and see how I get on - and I am lucky in one respect that I am a versatile rider - but eventually I have a hard decision to make.
In the future, if I and Team Sky felt that I had a chance of winning a Grand Tour like the Tour de France or Giro d'Italia then, obviously, I would love to give that a good go.
But, at the same time, if I felt I had more chance of being up there in the classics every year and maybe winning one of them, then I would go for that.
Traditionally, I am at about the age when I have to start specialising in one or the other. Saying that, Chris Horner won the Vuelta Espana in 2013 for his first Grand Tour victory at the age of 41. I look at that and think I have got about another 15 years to decide!
Some big days in the diary
I am fortunate that, as a more established Team Sky rider, I have a bit of a say in what my schedule is for the season.
At the end of last year I wrote down everything - from the way I saw the season going, and my targets, to which races I want to do and any training camps.
Coach Tim Kerrison looked at it and discussed with the directeurs sportifs, who decide on our programme, whether it fitted in with what they were thinking.
This year, after Australia, I have got the Ruta del Sol in Spain in February, another five-day stage race. Then I have the six-stage Paris-Nice in March, which I said I wanted to do. The Milan-San Remo one-day race is the following week and then I am straight into the cobbled classics.
So I think I will be full-gas training until Paris-Nice and then I will just be racing for the next month or two. After that, I will have a little break and then, hopefully, build up to the Tour de France again.
This sort of schedule has definitely made me strong in the past. Now all I need is a bit of luck to stay on my bike, which I did not get in the classics last year. That is what makes them so special, though. They are so unpredictable.
The Tour de France will obviously be extra special for us British riders this year, because it starts in Yorkshire.
It is always a crazy few weeks but I think things will be even more manic this time. We will be ready, though.
Team Sky have won the Tour for the past two years, and the aim is to go and win it again. Hopefully I will be there to help!
I definitely have one big date in my diary already though, after proposing to my girlfriend Sara in November.
I popped the question in Cardiff, at the bar where we first met. I meant to do it outside and bent down to pretend to do my shoelaces up, but she just kept on walking so I had to do it inside!
It all worked out in the end though, and we are looking at the start of October 2015 for our big day.
The heat is on down under
Sara is out in Australia with me at the moment, and will be staying to watch the Tour Down Under.
It was a good race for me last year, with a stage win and third place overall.
I was desperate to make a good start to the year because I had been away from the road and back on the track for the London Olympics during 2012, and though I would love to repeat last year' success this time round, I am not putting pressure on myself. Australian Richie Porte will probably be the first-choice leader for our team and I am here to support him.
You have probably been hearing about how hot it is here at the moment because of what has been happening in the Australian Open tennis in Melbourne. It will affect us too.
When it snows or rains or is freezing cold you can just put more clothes on, and because I am from Wales I am used to that anyway.
But heat is probably the hardest thing to prepare for as a cyclist because you just have to get through it - there is nothing else you can do. In 2007 it was unbearable here. We had some super-hot days and I just did not feel very well.
The only way to prepare for it is to actually be out here.
I am in the team hotel in Adelaide now, but this has only been our base for the last couple of days. I have been in Australia for a couple of weeks, staying in an apartment with the other European guys in our squad - Luke Rowe, Ian Stannard, Bernhard Eisel and Philip Deignan.
Being in a rented place together with them is a lot more homely than living out of a hotel room and it has been great having a laugh with the lads.
The core of this group will be doing the classics with me again this year, so I will be seeing a lot of them over the next few months - probably more than I will see of Sara, but that is part of being a professional cyclist.