Cycling anti-doping commission calls for witnesses
Last updated on .From the section Cycling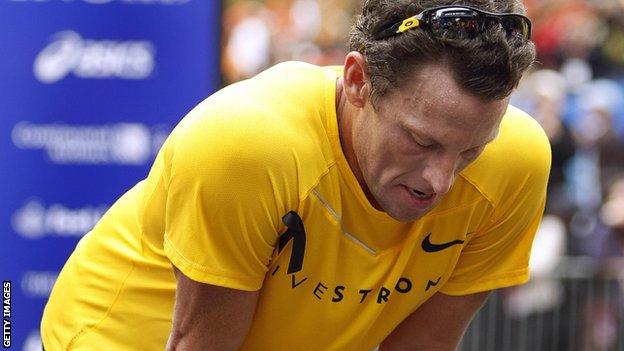 The independent panel investigating cycling's doping past has appealed for witnesses to come forward with information.
Dick Marty, chairman of the Cycling Independent Reform Commission (CIRC), says the panel's main aim is "not to punish doping offenders".
It has powers to reduce sanctions against witnesses who give evidence.
Lance Armstrong said in November he would testify with "100% transparency" at any future inquiry into doping.
The former cyclist wants assurances he will be treated fairly after admitting in January last year he took performance-enhancing drugs during all seven of his Tour de France wins.
The CIRC was set up by the International Cycling Union (UCI) in January to investigate historic doping in cycling and allegations that the UCI, cycling's governing body, has been involved in previous wrongdoing.
"The primary purpose of our investigation is not to punish doping offenders but to learn from the past so we can help ensure a better future for cycling," said Marty.
"We will treat all witnesses fairly and so I urge anyone in the cycling community with information that can help our investigation to come forward.
"We have much work to do over the coming year and I hope, with the cooperation of the cycling family, the sport has a unique opportunity to learn lessons and regain trust."
In a statement, the CIRC said the main focus of the investigation would be to "determine the processes and practices in professional road cycling that allowed the culture of doping to perpetuate over a sustained period of time, in particular to discover the main providers and facilitators of doping in cycling in the period 1998-2013."
Brian Cookson, who became UCI president in September last year, announced shortly after he was elected his intention to set up an independent commission tasked with investigating doping in cycling.
"Today marks an important step in understanding the past and restoring the credibility of our sport," he said.
"The Cycling Independent Reform Commission will not only help us learn from the past, but will also play an important role in shaping our future processes and practices.
"It is essential that the Commission is left to get on with its investigation on a completely independent basis and I have ensured that all the structures are in place to allow this to happen."