Scottish cyclist Charline Joiner feared she may not walk again
By Jane Lewis
BBC Scotland
Last updated on .From the section Cycling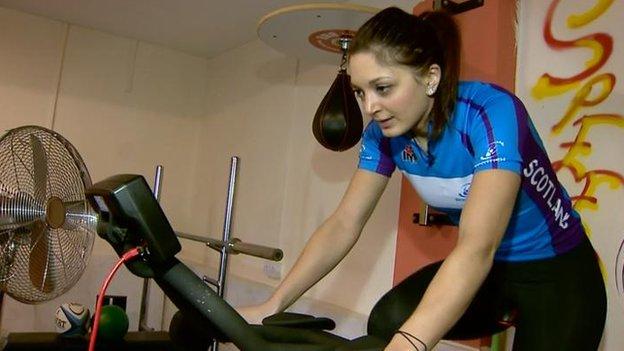 Scottish track cyclist Charline Joiner admits she feared she might not walk again, after left her with a broken back.
The 25-year-old, a Commonwealth silver medallist in Delhi in 2010, was on a Scottish performance camp in Girona when the accident happened.
She suffered three fractures to her spine but, five-and-a-half weeks on, she is already back in training.
"I was numb in places," she said. "The tiniest movement was sore."
Joiner spent eight days in hospital in Spain as she began her recovery and she has been using a static bike in the gym as she bids to return to action.
"Basically I came off the bike, I was at the back of the bunch and couldn't avoid the crash in front of me and went over the handle bars, landed on a bike and broke my back," she recalls.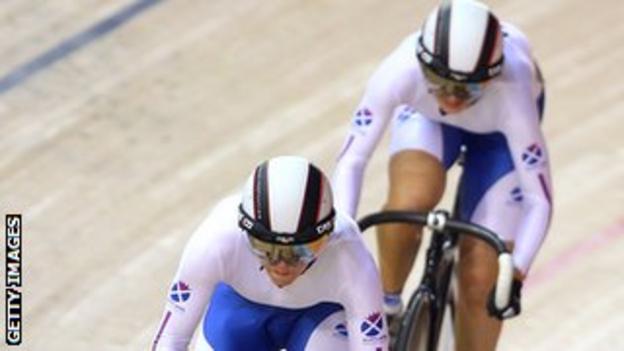 Joiner, who won team sprint silver in Delhi, is determined to be selected for Team Scotland for Glasgow 2014 and is using that incentive to aid her recovery.
She said: "Just to be there and competing and winning for your home nation gives you so much drive and determination. That's what's really driving me to get back on the bike.
"I'm only thinking there's a 100% chance of me being there because if I have one doubt in my mind then it's not going to happen.
"For me, I need to think that I am going to be there and if I'm not then I need to deal with that then.
"I have to stay positive because that is what helps the recovery."
Joiner views the Glasgow Games as "inspiring" and is keen to add to her Delhi Commonwealth silver which she won with Jenny Davies a year after they teamed up.
"It would just be a dream come true if I could do the same in Glasgow and have the whole of the nation behind you," she added.
"It's really good for them to know my story and what I've been through and really get behind me because that means so much to me.
"It definitely gave me motivation to go back because it was the best experience of my life.
"It was such a great experience and Glasgow's going to be 100 times better than that and I have to be a part of it."