Cycle speedway: No brakes or gears but plenty of crashes
By Sarah Corker
BBC Look North
Last updated on .From the section Cycling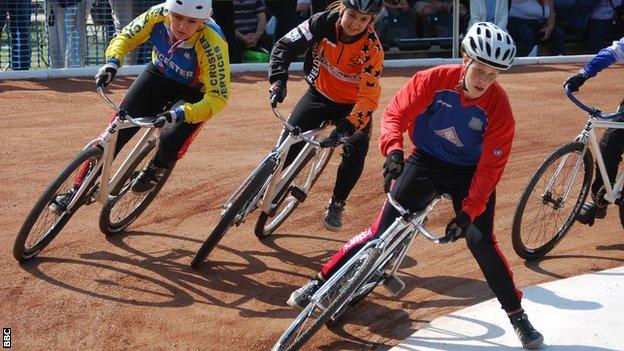 Cycle speedway was born on the bomb sites of post-war Europe where thrill-seekers raced each other around dirt tracks on steel bikes with no gears or brakes.
Fast forward half a century, and while the bikes and rules haven't changed much, there's a new generation of female riders helping to revive this niche type of cycling.
It is a revival which has been led by the Great Britain women's team captain Vicky Brown and fellow riders at Sheffield Stars Cycle Speedway Club.
Brown, who is 20 and from Hathersage near Sheffield, is the reigning British indoor champion.
"It's all about explosive speed at the start, especially when you come out of the corners," Brown said. "There are a few dirty tricks sometimes. You've got to be prepared to get in there and throw some elbows about."
Four riders go head-to-head over four laps of a short oval dirt track. The best competitors are the sprinters who find the gaps between other riders. Women compete in regional and national leagues.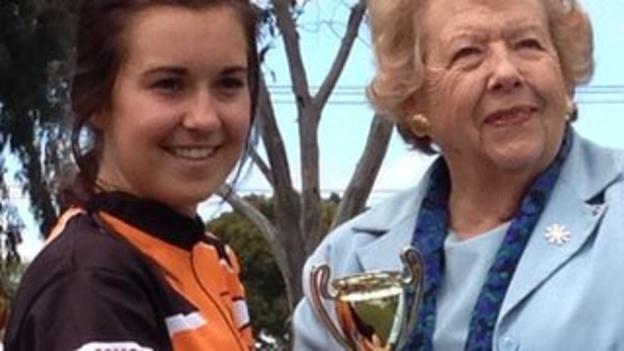 "You don't have any brakes, so the only way to stop is by putting your foot out. Riders are going as fast as they can to win. There are a lot of crashes."
It is a sport which runs in the Brown family. Vicky's brother competed to a high level and her father is on the British Cycle Speedway commission, advising on racing rules and competitions.
In 2011, Brown finished second in the World Championships in the United States, aged just 17. On the international stage, Australia and Poland provide the main competition.
She said: "There's a lot more opportunity for women in cycle speedway now. There's a GB team now for young athletes to aspire up to.
"When I first started there were hardly any women in the sport. It's just grown and grown over the years. It's starting to get as big as the men's now. It's getting so much bigger internationally."
It was back in 1946 when the first cycle speedway races were held in Sheffield. A purpose built 70 metre track at Graves Leisure Centre was completed in 2011 and is home to the Sheffield Stars, one of the country's biggest clubs, boasting three GB women's riders. Nationally there are 30 clubs with about 1000 members.
With the Tour De France starting in Yorkshire on 5 July, it is seen as an opportunity to broaden the appeal of the sport and attract new members. In fact, the route goes right past the Stars' track.
Brown has become the sport's reluctant poster girl. With the new competitive season starting this month, she is looking to win another British title and is eyeing the European and World championships, both for club and country.
"As cycling gets bigger and bigger, the smaller sports within cycling will grow," Brown added. "I think this sport has got so much room to grow. And the only way is up for it."