Sergio Henao pulled out of racing as Team Sky review blood tests
Last updated on .From the section Cycling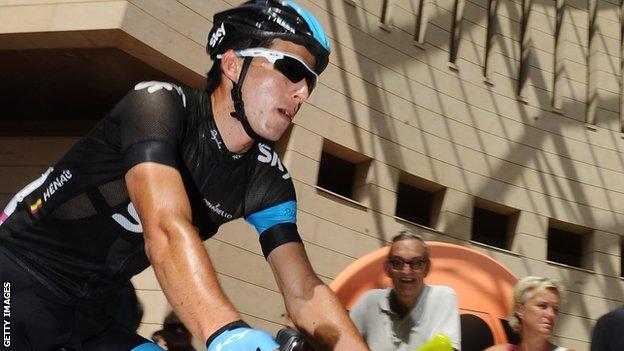 Team Sky have withdrawn Colombian rider Sergio Henao from racing after out-of-competition blood test results raised questions.
The tests were carried out at altitude and Sky want to find out if that had any bearing on the blood values of a rider born 2,125m above sea level.
Henao, 26, will undergo further tests in an "altitude research programme".
"It's important not to jump to conclusions," said Team Sky principal Sir Dave Brailsford.
"We want to do the right thing and we want to be fair. We need to understand these readings better."
Team Sky expect Henao to be out of action for "at least eight weeks", which would mean he misses the Giro d'Italia starting on May 9 in Belfast.
He was born in Rionegro and lives and trains in the region outside of the racing season.
"Our experts had questions about Sergio's out-of-competition control tests at altitude - tests introduced this winter by the anti-doping authorities," Brailsford told teamsky.com.
"Our own understanding is limited by a lack of scientific research into 'altitude natives' such as Sergio.
"We are commissioning independent scientific research to better understand the effects of prolonged periods at altitude after returning from sea level."
Team Sky have contacted the International Cycling Union and Cycling Anti-Doping Foundation and asked for their help in investigating Henao's blood readings.
World Anti-Doping Agency director general David Howman, speaking at the Tackling Doping in Sport conference at Wembley Stadium, said that if it was an athlete passport issue they would like to talk to Team Sky about it and view the athlete's profile.
But he added: "To go further is just speculation and I don't think it warrants speculation."
It is the second blood anomaly shown by a Team Sky rider.
Jonathan Tiernan-Locke, the 2012 Tour of Britain winner, faces anti-doping disciplinary action after his blood passport data was found to contain anomalies.