Cycling boss suggests moving track cycling to Winter Olympics
Last updated on .From the section Cycling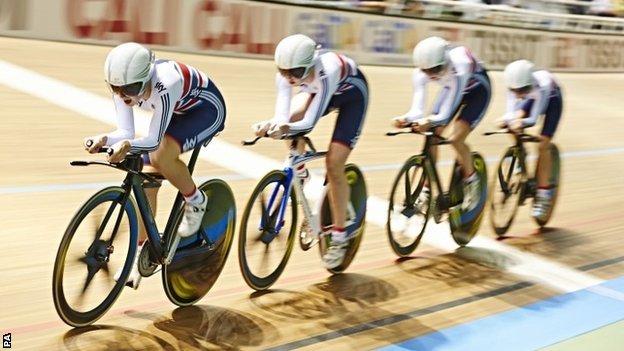 Cycling's president Brian Cookson wants an overhaul of the Olympics with some indoor sports, including track cycling, moving to the Winter Games.
Cookson, who is the president of the International Cycling Union (UCI), said the change would ease congestion during the busy Summer Olympics.
He added that sports could then have more events and more medals.
"Let's think about the Winter Olympics, why does it have to be snow and ice?" Cookson said.
"If you have a problem with summer Olympics where the whole thing is perceived as over-heated with too many facilities, too many sports, too many competitors and so on, why not look at moving some of the other sports indoors that traditionally take place in the northern hemisphere winter?
"Why not look at combat sports like judo, or other indoor sports like badminton? You could even say what about putting track cycling in the Winter Olympics?"
Cookson, who has campaigned for cyclo-cross to be included in the Winter Olympics, added: "If we moved track cycling to the Winter Olympics and that allowed us to have more track cycling events and more medals, that could be a pretty good outcome."
Thomas Bach, the International Olympic Committee (IOC) president, has said there will be a review of the whole Olympic programme with the results being presented in Monaco at the end of 2014.
Britain won medals in nine of the 10 track cycling events, including double gold for Laura Trott, at the London 2012 Summer Games.