Sir Bradley Wiggins: Tour de France wait for 2012 champion
Last updated on .From the section Cycling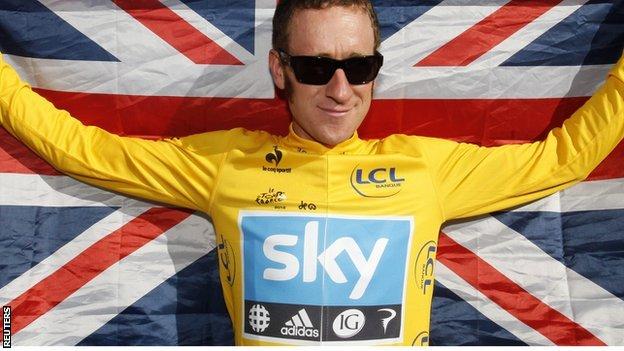 Britain's Sir Bradley Wiggins admits there are doubts about his place in this year's Tour de France.
Wiggins expects Froome to lead the team again and says the champion will have a major say who rides with him.
The 33-year-old says he is not an automatic choice, adding: "One thing this team has is a lot of strength in depth, particularly in the mountains."
After finishing ninth in the gruelling Paris-Roubaix race on Sunday, Wiggins accepts there is uncertainty about his future given the of recent comments of Shane Sutton, British Cycling's technical director.
Sutton told the Independent newspaper that Team Sky had a lot of faith in Froome's ability and would put the "best riders available on the grid" for Froome to win the Tour again, adding: "I'm not sure whether Brad is going to be on that list."
Wiggins responded: "I'll do everything possible to try and be there but, as Shane Sutton said, it is Chris's team and he'll have a big say in who he puts around him and who he's confident having in front of him in the mountains.
"I would love to be there. I've proved I've got the legs at the moment and I'm coming to where I need to be now, if I can just push on."
Wiggins suffered a disastrous 2013, pulling out of the Giro d'Italia because of illness and then missing the defence of his Tour de France title because of injury.
He will compete for England at the Commonwealth Games in Glasgow, a week after the Tour.