Emma Pooley: When being world champion doesn't pay
By Ollie Williams
Olympic sports reporter
Last updated on .From the section Cycling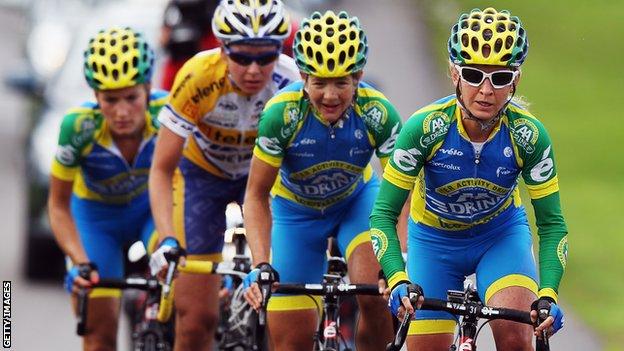 Emma Pooley can win the world's biggest bike races, but she cannot make the numbers add up.
Has that earned enough to put food on the table? Yes. After almost a decade in cycling, has she saved any money worth talking about? Not really.
Pooley long ago accepted the financial realities of her sport, a world away from the men's equivalent. However, nagging reminders are never far off.
Before concentrating on cycling, Pooley had been a triathlete, taking up the sport when she left Norwich to study at Cambridge. Now she has returned to the swim, bike and run as a "hobby" - except her hobby seems more lucrative than the day job.
In February, she came third at a half-Ironman triathlon of middling repute in the Philippines. That result earned her more prize money than any of the dozens of bike races she has won.
"I don't do it for the prize money. I love sport," insists the 2010 world champion. "And if you'd like to print this I'd be very grateful, because I keep getting accused of being a whinger.
"I'm not trying to be whingy. I love sport and I know it's a privilege to do it, and that's why I do it - I've got the opportunity and I'm very grateful for it.
"But, occasionally, it seems strange when the prize money for coming third at a triathlon in the Philippines is more than the prize money I've ever won in a bike race. That's nuts to me."

The same thing happened last year. Pooley entered the Lausanne Marathon in Switzerland, won it, and pocketed a small four-figure sum. The prize for a single run was more than any bike race had ever stumped up.
Only three years of her life - the three leading up to London 2012, where she came sixth in the time trial - have been spent as a full-time bike rider. Before that, she worked to make ends meet.
In the past year, her interests have further fragmented. There are the marathons, the triathlons and the long-running saga of her PhD in geotechnical engineering, finally completed late last year.
Then there is Pooley the politician. The Beijing Olympic silver medallist does not see herself as a political beast, but she has worked passionately and persistently to develop women's cycling - she is part of Le Tour Entier, the pressure group that convinced Tour de France organisers to revive a women's race at the event.
Where is Emma Pooley going? Where does she expect a life stretched between so many disciplines and domains to lead?
We can at least park the marathons for the time being. "No marathon running this year," she says. "I love running, but a marathon really takes it out of you for a long time."

Triathlon, though, is increasingly in the picture. Pooley's 2014 is divided into cycling and triathlon phases.
Her next target is the women's Fleche Wallonne on 23 April, a one-day bike race ideally suited to Pooley, who thrives when there are climbs to be conquered. The Belgian course has one of cycling's most famous inclines - the Mur de Huy, a punishing kilometre of gradients up to 25%.
"It's very up and down, narrow roads, twisty and technical. It's a stressful race," says Pooley, who won it in 2010. "It suits me and it's a big one to win, especially as I'm on a Belgian team." The team in question is Lotto-Belisol, with whom Pooley has an agreement that gives her time for triathlon in return for targeting key races.
Pooley will then mix and match triathlon with cycling: a half-Ironman in Switzerland is followed by the women's Giro d'Italia and, if selected for England, the Commonwealth Games. In August she will tackle the Embrunman - "like an Ironman in the Alps" - one of the hardest long-distance triathlons in the world.
Convenient, then, that Pooley should be spending time with Chrissie Wellington these days. Wellington, the retired four-time Ironman world champion who famously concluded her career undefeated, joined forces with Pooley, Marianne Vos and Kathryn Bertine to form Le Tour Entier.
But Pooley cannot bring herself to consult Wellington for triathlon advice.
"I haven't spoken to her much," she admits. "She's kind of a different level to me, and I was a bit embarrassed to mention I was doing any triathlon. She's a hero of mine.
"She gave me some advice and put me in touch with a swim coach, but I'm embarrassed to ask. She's too good."
Pooley and Wellington, both outspoken campaigners for women's sport, met on a level playing field when lobbying ASO, the Tour de France organisers. The resulting one-day women's race, La Course, will take place on the same roads as the men's Tour finale, earlier on the same day, 27 July.
Pooley now sits on the new women's cycling commission of world governing body the International Cycling Union (UCI) - although her training commitments kept her away from its first meeting. Could she one day commit to cycling politics full time?
"I didn't intend to become political," she says. "It's just that people ask for my opinion and I give it. I don't have some burning desire to be the head of some federation or something.
"A lot of women get out of cycling administration, and team administration, because they're so fed up of it by the end - of making no money and of being seen as second best. And I think I don't want to carry on in the sport and be bitter about it.
"I don't know if anyone would employ me," she adds, with a laugh. "I think I'm seem as some kind of weirdo, radical feminist. I get the impression I'm really quite unpopular in some parts. So I don't know if I'd necessarily find a job."
In any case, on the job front, Pooley already has plans.
"I've got a perfectly serviceable degree, so I'm going to try to get some part-time work in engineering this year and next year. I need to pay the bills."