Lessons from a master of the Giro d'Italia
By Thomas Kane
BBC Sport NI
Last updated on .From the section Cycling
To the novice cyclist trying to keep up with a former Giro d'Italia winner, the sedate beauty of the Glens of Antrim is replaced by a nightmare vision of endless, torturous hills.
I managed just over 40 energy-sapping miles alongside Stephen Roche, but riders in the Giro d'Italia will have an extra 95 to travel on Stage Two of the race on 10 May.
The route, starting and finishing in Belfast, includes the splendour of the Glens and Causeway Coast.
I am not a cyclist in any shape or form. About a year ago, I bought my first bike since childhood.
It is black and has gears. That is about as much as I know about it, having been bamboozled by technical terms, carbon fibre and group sets when I went into a shop to see what I should buy.
Over that year, my bike has spent substantially more time in the garage than on the road. When it is occasionally dusted off, I head off, wearing lycra and clothing that is a little too tight for my liking and go for a short spin with my brother-in-law Anthony.
Our route is a flat combination of cycle paths and road to the halfway point. He orders a coconut poke and a latte, I get a honeycomb ice cream and an Americano. Anthony is a lot more adept than me in the saddle, but we are more concerned about whether we get two scoops, rather than split times.
Recently I was invited to a cycle with Stephen Roche. I figured it would be a little leisurely trip where we could chat about the upcoming Giro d'Italia.
That was, until I arrived at our meeting point and discovered that the majority of riders joining us were club cyclists who had won a competition to hit the tarmac alongside the Irishman who won the Tour de France, Giro d'Italia and World Championships in 1987.
The distance of over 40 miles was a lot, lot longer than I had covered on a bike before.
We would leave the hotel before seven in the morning - I'm not a morning person at the best of times, but I realised quickly I was well out of my depth with these lads. They had the gear, the chat and had done the miles.
Our starting point was the Giant's Causeway, created by the mythical Finn McCool, and the waves crashed up against the stones on a beautiful day on the north coast.
Stephen told me to take it at my own pace, and as we cycled up the hill to the visitor centre I quickly realised that I was finding it a lot tougher than the rest of the group, which did not bode well.
On the road, we made our way to our first stop around the Carrick-a-Reed rope bridge. The scenery was spectacular, but the hills were coming thick and fast. I had no idea about gearing or the wind, and felt as if the ascent was never going to end. Everyone else was cruising, I was crawling.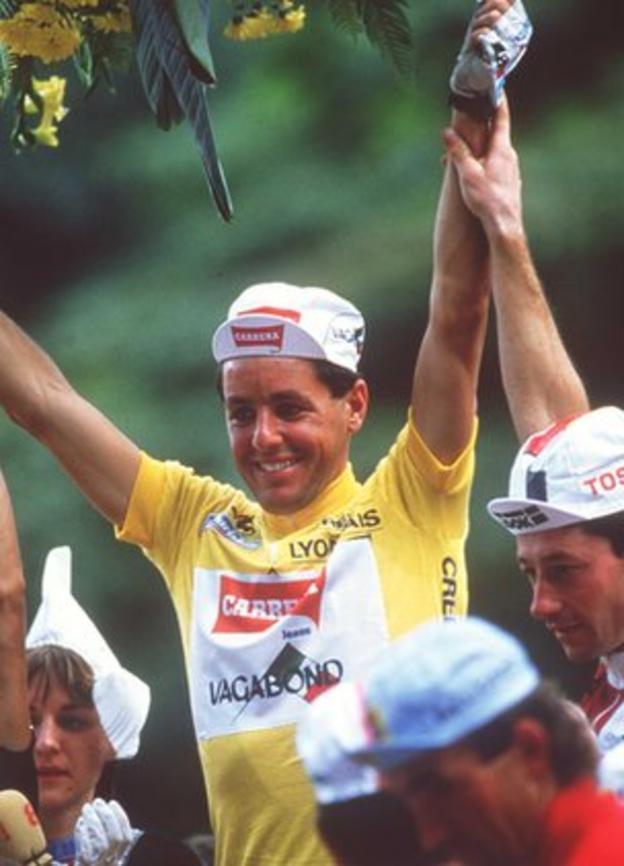 Thanks to the help of two experienced cyclists, Tim and David, I started to learn about the basics of technique and gearing, as the main group disappeared into the distance.
Going downhill we were reaching speeds of almost 30mph while uphill, as time went on, every revolution of the pedal was getting tougher and tougher. It seemed the whole journey was against the wind and thus making it even harder….well, for me anyway.
It is hard to describe why is was so difficult. My legs were fine, but my hands, neck and back were starting to hurt. It was simply certain muscles being pressed into service for the time.
It had become less and less about a cycle with Stephen Roche, and more about whether I could finish.
At every opportunity I was stuffing my face with chocolate bars and bananas for an energy boost, and it didn't help that myself and another couple of riders took a wrong turn and ended up in Cushendun rather than Cushendall. That was my excuse for us being so far behind
After the detour, the finish at Carnlough was in sight. The coast road was a blessing as we headed to the home village of Brendan Rodgers. If he can lead Liverpool to the title, I thought, I can finish this challenge.
Our merry little group arrived long after the others, who greeted us with cheers and slaps on the back, although I think they were relieved as they could actually get their lunch at last.
I had another chat with Stephen at the finish line. He explained that the only way to improve is by doing miles on the road, saying that top professional riders cover more miles per year than I do in my car.
The rest of the group were fresh as a daisy, giving me a new-found respect for a sport that is different than most others.
There is fit, and then there is bike fit - given the amount of lycra involved in cycling, I might be better leaving the honeycomb ice cream the next time I go back to my nice little Sunday spin.