Women's Tour: Marianne Vos eyes pivotal year for women's cycling
Last updated on .From the section Cycling
Two-time Olympic champion Marianne Vos believes 2014 could be a pivotal year for women's cycling.
The Dutchwoman is one of the star attractions as she returns to Great Britain for the inaugural Women's Tour, which begins on Wednesday.
"Besides racing, it's my dream to help push women's cycling further," Vos told BBC Sport. "It's good to be around the table with the big organisations.
"We're being heard, we're moving. I think 2014 can be an important year."
The Women's Tour mainly takes place on the roads around the East Midlands and East Anglia.
It starts in Oundle in Northamptonshire ion Wednesday and ends four days later in Bury St Edmunds, Suffolk.
"Since the London Olympics, I know how crazy Great Britain is about cycling," said Vos. "They really love the sport and it was fantastic to race there."
She added that the Women's Tour will be well organised and draw big crowds.
"It will be a really good experience," she said. "It'll be huge."
Not even the unpredictability of the British weather can dampen her enthusiasm.
Alluding to her rain-soaked Olympic road-race victory on the Mall, she joked: "It was pouring and it was still OK for the Dutchies."
This first Women's Tour of Britain is viewed as another sign of progress and recognition for female cycling.
Alongside other prominent female cyclists, including Britain's Emma Pooley, Vos has been an active member of Le Tour Entier - a group petitioning cycling authorities for better opportunities and equality for women within the sport.
Their first goal was to push for a women's race during the men's Tour de France - and that goal has been achieved.
On 27 July, for the first time since 1989, women will race in La Course, a one-stage event through Paris on the final day of the men's event.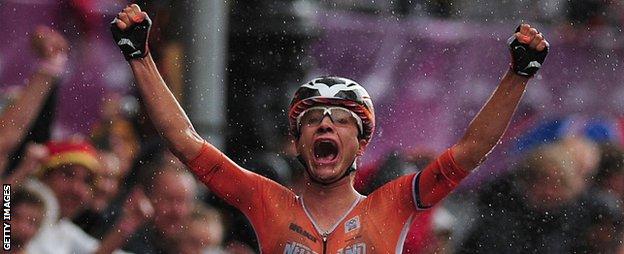 "The cycling world sees the importance of women's cycling and how great the racing is," said Vos, who has won 12 world titles across road, track and cyclo-cross disciplines.
"I think the last few World Championships and the Olympic Games were exciting to watch. Now we're at the stage where it's not just about those events. We have fantastic races every week."
After a busy 2013, and winning her seventh cyclo-cross world title in February, Vos made a belated return to the road at the Fleche Wallonne World Cup race in Belgium in late April.
She is therefore playing catch-up in the World Cup standings, which are led by Britain's Lizzie Armitstead.
Armitstead, who is looking forward to competing in front of her home crowd, said the Women's Tour represents a "huge step forward".
She added: "What the likes of Marianne and Emma are doing is great, and if we're a united voice as women then we're really powerful."
Fellow Briton Laura Trott added: "I just think Marianne is unbelievable and what she does for cycling is amazing."
With part one of Le Tour Entier's mission achieved in securing La Course and a landmark tour in Britain also added, what would Vos like to achieve next?
"We can work together with the big organisations to grow women's cycling and to get it to the next level," she said.
"We're getting there. I foresee a pro league in the big stage races, with the professional teams all involved in a world tour."
And a women's Tour de France one day?
"That would be fantastic," said Vos. "It would be great to have a calendar with the Grand Tours and the historic men's races combined with women's races."
Stage-one road closures in Northamptonshire can be found by visiting www.northamptonshire.gov.uk.