Glasgow 2014: Mark Cavendish heads 'strongest ever' Manx team
Last updated on .From the section Cycling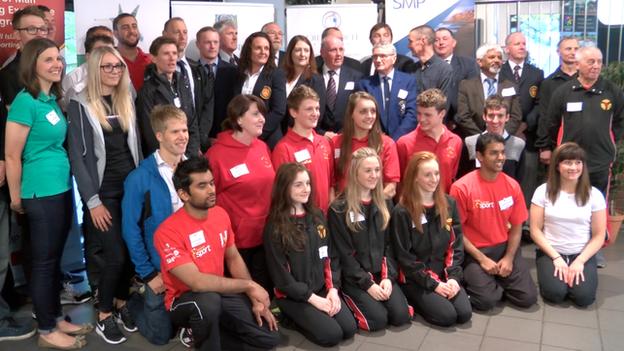 Cyclists Mark Cavendish and Peter Kennaugh have been included in the Isle of Man's largest-ever Commonwealth Games team, selected for Glasgow 2014.
Forty-six athletes, including former Commonwealth gold medallist Cavendish and Olympic gold medallist Kennaugh, will compete in nine of the 17 sports.
The Commonwealth Games is the highest level at which a Manx sportsman or woman can represent the island.
IOMCGA president Juliet Holt said it is a "very accomplished group".
She said: "It is the biggest and strongest squad ever to represent the Isle of Man - with real strength in depth.
"In Melbourne we topped the medal table per head of population and came second in Delhi. We are well used to punching above our weight."
The largest Manx teams will represent cycling, gymnastics, shooting and swimming.
Cycling coach Mike Doyle said: "There is a lot of quality in our team. We obviously hope Mark (Cavendish) comes out of the Tour de France fit and raring to go.
"We have 10 in the team and the experience is fantastic both on the road and track."
In order to pay for the national team's participation in major competitions, the association relies on fundraising events and donations
In 2010, the Isle of Man sent 31 athletes to Delhi, winning two bronze medals.
Cyclist Mark Christian won the island's first in the 40km points race, with help from fellow Manxman Chris Whorrall, and shooter Tim Kneale also claimed bronze in the individual double trap event. Both men have again been selected for Glasgow.
Meanwhile, the Queen's Baton Relay will arrive in the Isle of Man on 16 May.
Seventy-one nations will compete at the Games, with the opening ceremony held at Celtic Park.
Manx Team
ATHLETICS
Steve Partington (manager); Harriet Pryke; Keith Gerrard; Reagan Dee; Olivia Curran
BADMINTON
Frank Anderson (manager); Ben Li; Cristen Callow; Kim Clague
BOXING
John Cain (manager); Krystian Borucki
CYCLING
Graeme Hatcher (manager); Gary Hinds (coach); Mike Doyle (coach); Alex Jaffrey (mechanic); Mark Cavendish; Peter Kennaugh; Mark Christian; Jonny Bellis; Joe Kelly; Jake Kelly; Andrew Roche; Elliot Baxter; Anna Christian; Laura Wasley
GYMNASTICS
Haresh Measuria (manager); Gennady Tsyganov (coach), Valery Molchano (coach); Alex Hedges; Anand Patel; Mukunda Measuria; Harshul Measuria; Kaitlin Kneen; Tara Donnelly; Grace Harrison; Nicole Burns
LAWN BOWLS
Clive McGreal (manager); Bernice McGreal
SHOOTING
Phil Ward (manager); Phil Glover (manager); Kevin Gill (coach); Ian Shirra-Gibb (coach); Tim Kneale; Jake Keeling; Neil Parsons; David Walton; David Clague; James Bradley; Harry Creevy; Ben Kelly; Rachel Glover; Gemma Kermode; Lara Ward
SWIMMING
Leonie Cooil (manager); Lee Holland (coach); Grant Halsall; Tom Bielich; Guy Davies; Alex Bregazzi; Charlotte Atkinson; Laura Kinley; Niamh Robinson
TRIATHLON
Graham Stigant (manager); Andrew Nash
SUPPORT
Juliet Holt (President, Commonwealth Games Association of the Isle of Man); John Knight (Vice-President CGA IOM); Tonia Lushington (Chef de Mission); Trevor Taubman (general team manager); Chris Till (assistant general team manager); Frank Vaughan (team doctor); Danni Bell (office manager); Ruth Cooil (physio); Wendy Shallcross (physio)