British Cycling restructures pathway to podium success

By Keir Murray
BBC Sport Scotland
Last updated on .From the section Cycling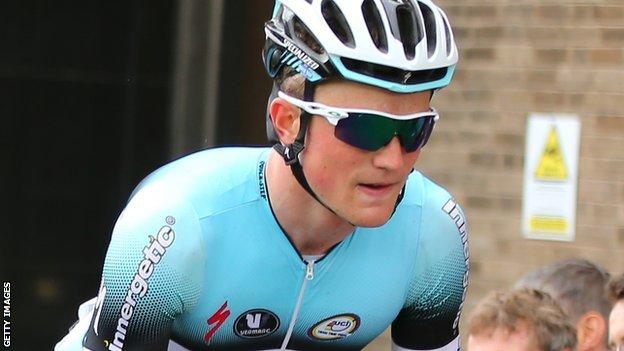 British Cycling is to restructure its "performance pathway" as it seeks to capitalise on the sport's burgeoning popularity and maintain the stream of elite-level medals won by its riders over the past decade.
Since 2003, when the Manchester-based governing body established its Academy programme, 203 riders have come through the system.
According to Great Britain Cycling Team's Ian Yates, one in 10 has won a World or an Olympic medal.
The challenge now is to establish a programme that produces winners after the Olympics in Rio.
"It's a positive position we are in," the performance pathway manager told BBC Scotland at the Sir Chris Hoy Velodrome in Glasgow.
"But cycling is a completely different sport in Britain nowadays compared to 2003.
"We used to have 1,300 riders at under-18, now we have 11,500, and 8,000 of those are racing."
In 2008, British Cycling had 20,000 members. The exploits of Sir Bradley Wiggins, Sir Chris Hoy et al boosted the numbers to 50,000 by 2012.
Today there are 90,000 members, 8,500 of whom are in Scotland.
British Cycling, with Shane Sutton as its technical director, decided its rider development plan could be improved. It has created a new six-step performance pathway to come into effect later this year which allows it "to identify, confirm and develop the best young talent".
From "Club Clusters", youngsters will move on to "Regional Schools of Racing" and hope that they can progress to become "Olympic Development Apprentices" in their early teens.
There follows three stages for an even more select bunch - the "Olympic Development Programme", the "Olympic Academy Programme" and the "Olympic Podium Programme".
Yates lists the achievements by British cyclists in the past decade: among them the two golds at the Athens Olympics in 2004; pathway graduate Mark Cavendish's World Championship gold in the madison the following year; the eight golds at the Beijing Olympics; Britain's women winning 2009 World Championship team pursuit gold; Sir Bradley Wiggins's Tour de France glory in 2012 and the gold medal haul on road and track at the London Olympics.
"It's fairly well published we've had 34 Olympic medallists since the Sydney Olympics in 2000," he added.
"But what's more interesting is that since Beijing we've had 33 individuals who have won a World Championship or an Olympic Games medal.
"Two-thirds are graduates of the pathway and just over half have been with us since a youth or a junior, that's 15-17-year-olds."
So why change a system that produces such results?
Yates wants to make the most of having "an ever-growing population of bike riders" to choose from. But there is also the desire to increase the contact time between the most promising riders and the best coaches and facilities.
In Scotland, where 154 clubs are affiliated to Scottish Cycling, there will be one Club Cluster in each area of the country. The programme will try to bring together like-minded clubs to create "a more performance-driven environment".
For riders in their mid-teens, the Regional Schools of Racing will offer one full-day session a month that covers riding skills and "off-bike" skills such as bike maintenance.
"We have got to make sure there are events and coaches in the regions," said Lynne Munro, head of development at Scottish Cycling.
"We want to have that local scene really thriving. We must ensure there's the right support in our clubs and that's why we need to educate our coaches."
There are separate schools for track, road, mountain bike and BMX, but for Munro there is a fantastic crossover of skills between the disciplines.
She and Yates cite the example of Peebles rider Grant Ferguson, one of 10 Scots in the British Cycling set-up, who is doing well not just in mountain-bike racing but on the road too.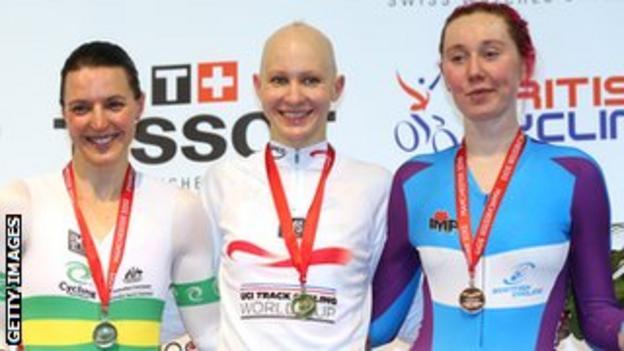 And last year's BMX world champion Liam Phillips was just two years ago trying out the track to build up speed and power that would give him the edge over rivals at the start ramp.
The existing 30-day camp-based "Talent Team" of 30 riders will be replaced by Olympic Development Apprentices aged 14 and 15 who will have a full-day session every fortnight.
"We wanted to increase the frequency of access to world-class facilities and coaches that a larger number at the right level could get," said Yates.
"We would expect to have a bunch of track-based riders operating out of this velodrome in Glasgow, and a bunch of mountain bike riders at another facility, and for the cohorts to work together later in the day on the road and then in the classroom.
"It will be real quality work at an age where their skill development is very important.
"We want to really push them for the step up to the national programmes, either for GB or for Scotland, so that when they step up they are closer to being a finished product."
That next step takes riders from the first three stages of the regional performance pathway to the national scheme. The most promising will be invited on to the Olympic Development Programme, which is typically for riders aged 15-17, to develop their skills and fitness for racing. Riders are taught by Great Britain Cycling Team coaches, given individual training and race programmes, and are aided by the GB performance support team.
Successful progression leads to what British Cycling refer to as its "finishing school", the full-time residential Olympic Academy Programme in Manchester. Its aim over two to three years is "to provide a tough and demanding environment so riders understand the requirements, expectations and principles of what it is to be a world and Olympic champion".
Finally, the very best riders will make it on to the Olympic Podium Programme which is dedicated to supporting elite riders targeting medals in European, World and Olympic championships.
For a young rider, the pathway to the podium is clear. Now, who has the legs to make the journey?