Jonathan Tiernan-Locke: Team Sky rider denies seeking delay
Last updated on .From the section Cycling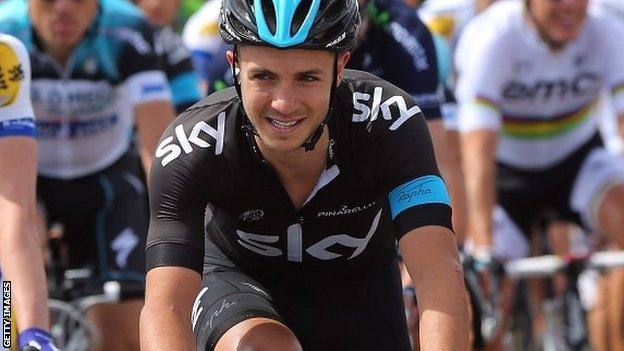 Team Sky cyclist Jonathan Tiernan-Locke has denied making a request to delay his anti-doping hearing.
The 2012 Tour of Britain winner, 29, is under investigation after discrepancies in his biological passport demonstrated an anti-doping violation.
The Briton says he did not ask United Kingdom Anti-doping Agency (UKAD) to postpone the hearing.
"Believe me, no-one has more reason to get this over and done with than I do," he told the Plymouth Herald.
UKAD said on Thursday that the hearing would not happen until the summer "at the athlete's request", but Tiernan-Locke insists he is keen to resolve the matter and blamed the delay on his legal team.
"I most certainly did not ask for any such thing - I just want this over and done with to clear my name and get my life back," Tiernan-Locke said.
"As I understand it, we were due to go to the hearing next week but one of my legal team is involved in another case and that is over-running by a couple of days.
"But that situation is enough to make it difficult to instantly set up a new hearing as both sides, witnesses and so on were affected. So, it was decided - not by me as the statement reads - that the hearing should be delayed."
Tiernan-Locke denies any wrongdoing but has been suspended by his team.
The Briton pulled out of the 2013 World Championships in September after being asked to explain his results by cycling's governing body, the International Cycling Union (UCI).
Team Sky said at the time that the readings were "taken before he signed", in 2012.
The UCI opened disciplinary proceedings in December 2013 but UKAD are handling the case on their behalf. It is unclear whether the process will be completed before the cyclist's two-year contract with Team Sky ends in October.
The case will eventually be heard by the National Anti-Doping Panel, which is likely to appoint a top lawyer as chairman, sitting alongside two medical or scientific experts.