Ian Stannard: Injured Team Sky rider ruled out of Tour de France
Last updated on .From the section Cycling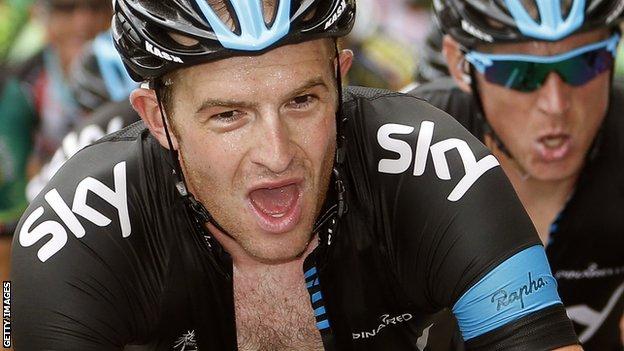 Team Sky's Ian Stannard will miss the Tour de France with the back injury he suffered in March's Gent-Wevelgem race.
Stannard, 26, says a spine specialist told him that the injury could have been career-ending.
"He said I'd been really lucky not to suffer any permanent damage because my vertebrae had been quite badly damaged," he told Team Sky's website.
"I've had no choice but to wait for my body to fix itself.
"As far as I understand, if I'd had surgery on it, it would have ended my cycling career because the spine and joints would have stiffened up to such a degree that I wouldn't be able to get into the right position for cycling."
The final race of the 2014 UCI World Tour, the Tour of Beijing, starts on 10 October. and although Stannard hopes to return to action before the end of the season, he says he won't rush his comeback given the severity of the injury.
"I've got to have another X-ray at the 12-week mark to check everything is healing OK and they can guarantee I won't be putting myself at risk by riding again," he said.
"We're confident I'll be riding again before the end of the season though, so that's what I'm focusing on. I'm eager to get back in the saddle but it's in the hands of the experts."