Chris Froome says contract talks threatened Team Sky career
Last updated on .From the section Cycling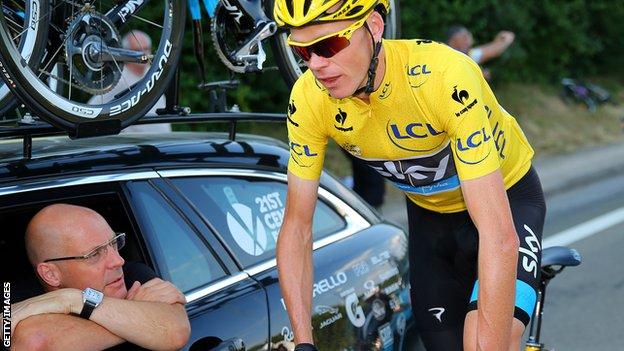 Tour de France champion Chris Froome has revealed he considered leaving Team Sky in the year before he helped Sir Bradley Wiggins win the race.
Froome was offered a new contract by Sky team principal, Sir David Brailsford, in September 2011.
But Froome, 29, claims the proposed deal failed to recognise his potential as a future winner of the Tour.
"I wanted a contract that reflected being a leader, rather than a domestique," said the Kenyan-born Brit.
"It was getting stressful and I sent Dave a long and quite strong message saying there would be no more going back and forth. I also said that that was the final offer, I was going elsewhere."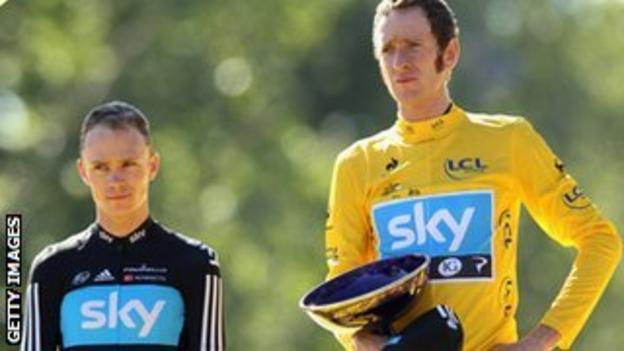 Froome eventually signed a three-year contract with Sky in the week after he finished second at the Vuelta a Espana in 2011 and Wiggins finished third. Froome then committed to a new three-year deal in December 2013.
In the years between, he supported Wiggins in his 2012 Tour de France victory then stormed to the yellow jersey himself last July while Wiggins was injured and unable to take part.
Wiggins and Froome could again find themselves riding for Sky in this year's race, which starts in Yorkshire on 5 July.
Froome claims that Brailsford's apparent unwillingness to choose him over Wiggins as team leader ahead of the 2012 Tour made him doubt his future with Sky.
"I wanted Dave to agree that I had a chance to win the Tour de France, or at least not be stuck in a system where I couldn't," he said in a serialisation of his new autobiography, The Climb, by The Sunday Times newspaper.
"Finishing second in Spain after doing so much work for Brad had given me confidence. When other teams proposed contracts that showed me they wanted me as their leader, that made me think: why shouldn't I go for the Tour de France?
"Dave was enthusiastic and convincing and, though I wanted reassurance, I also wanted to stay with the team.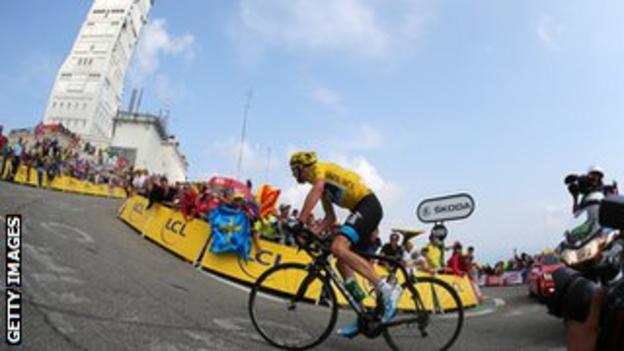 "I thought that what he told me meant that I could go to the Tour de France and have my chance to win it. But he didn't actually say this. Instead, he spoke of two guys riding for GC (General Classification) with one being the designated leader and the other riding as his back-up.
"The details were never teased out. Dave's words would mean just what he chose them to mean.
"To an outsider, unfamiliar with how teams work, it probably seems bizarre that a rider would have to persuade his team to try to allow him to win the biggest race in the sport."
Froome has also insisted Sky had initially failed to match financial packages being offered by other teams and claims the deal for him to stay was eventually only agreed after he sent Brailsford a message outlining his stance.
"From my point of view, they were offering much less than other teams," he added.
"There was a tone that suggested he'd (Brailsford) been upset by my message. In his eyes, I'd given him what amounted to an ultimatum."