Chris Froome Tenerife anti-doping claims investigated by UCI
Last updated on .From the section Cycling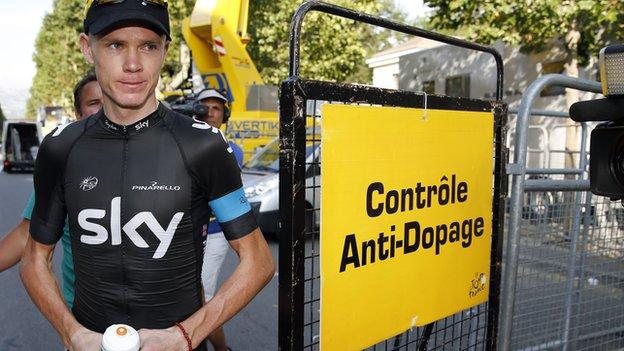 The UCI is investigating claims by defending champion Chris Froome that he has not been drug-tested at a Tour de France training camp.
The Briton, 29, also claimed there had been no tests for leading riders Alberto Contador and Vincenzo Nibali.
"We're looking into the matter with the Cycling Anti-Doping Foundation," the sport's governing body told BBC Sport.
Froome said it was "very disappointing" not to have been tested while training in Tenerife during the last two weeks.
He wrote on Twitter: "Three major TDF contenders staying on Mount Teide and no out of competition tests for the past two weeks."
Froome has been high-altitude training with Sky team-mates in the area around Mount Teide ahead of the Criterium du Dauphine in June and the Tour de France, which starts in Yorkshire on 5, July.
Froome, the 2013 winner of France's annual race, later followed up with a further tweet, which said: "To clarify, I am one of those three and I think it's in all our best interests to be able to prove we are clean no matter where we train."
The UCI has responsibility for anti-doping tests. Riders are obliged to provide the UCI with their whereabouts at all times to allow random anti-doping tests as part of the scheme which provides a biological passport.
The UCI responded on Thursday by insisting Froome's allegations would be investigated.
"The UCI has seen the comment by Tour de France winner Chris Froome regarding a lack of out of competition testing at Mount Teide, Tenerife," a spokesman said.
"Out-of-competition testing is clearly an essential component of any effective anti-doping programme and we are looking into the matter with the Cycling Anti-Doping Foundation, which is responsible for planning and executing anti doping tests in cycling."
After his initial tweets, Froome then expanded on his comments in an interview with Cycling News, claiming that leading riders and potential Tour rivals Nibali and Contador ad also not been tested while on the island.
Contador was banned for two years in 2012, backdated to January 2011 and stripped of his 2010 Tour de France victory after testing positive for clenbuterol.
The Spaniard has maintained that the failed test was a result of eating contaminated meat.
"I've asked around with other teams just out of interest, because we've been up here before and not been tested," Froome said.
"So, I just wanted to see if it was the same case for everyone, but none of them, from what I could gather, had been tested either."
He said that whoever won the Tour de France would have to justify their performances, adding: "If we're not getting tested, that doesn't look good on any of us."
Froome has never failed a doping test but repeatedly had to answer questions about the subject on his way to winning the Tour de France for the first time last summer.
He claims he has only been tested once during his visits to Tenerife despite Sky and other professional teams regularly using the area for high-altitude training.
"I've been tested once and I've been up here maybe four or five times," the Kenyan-born rider added.