Chris Froome frustrated by lack of consistent drug testing
Last updated on .From the section Cycling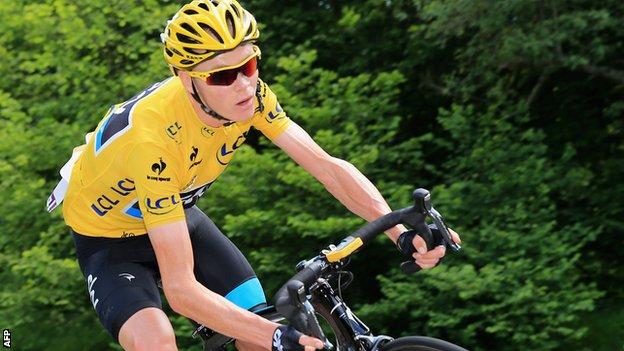 Chris Froome says that cyclists are determined to put the dark days of doping in the sport behind them, but are frustrated by a lack of testing.
"I'm trying to show people that the sport has turned around, that it's not the Lance Armstrong era anymore," Froome told BBC Radio 5 live.
The UCI, cycling's governing body, are investigating Froome's comments.
Armstrong was stripped of his seven Tour de France victories by the UCI after what was called, "the most sophisticated, professionalised and successful doping programme that sport has ever seen".
Froome had revealed on Twitter that he, Alberto Contador and Vincenzo Nibali had not been tested while training on Tenerife ahead of the the Criterium du Dauphine in June and the Tour de France, which starts in Yorkshire on 5 July.
The UCI has responsibility for anti-doping tests. Riders are obliged to provide the UCI with their whereabouts at all times to allow random anti-doping tests as part of the scheme which provides a biological passport.
The Team Sky rider added, "Something that's been quite frustrating for us is that when we go up to Tenerife and do the really hard training rides to get ourselves ready for the Tour, we come down and journalists ask, 'We're you tested up there?'
"We can't lie and say, 'yes we were' when we weren't. We need to be tested to be able to say to people, 'Listen, we're being tested all the time, there's no way anything untoward is happening here.'"
If Froome wins this year's the Tour de France, he will be the first rider since Spaniard Miguel Indurain in 1995 to retain his title without being tarnished by a drugs association.
"I definitely feel they could do more testing when we're away at altitude," added the 29-year-old.
"Every day we have to log onto an internet site and put our address of where we're sleeping 365 days a year so that we are open to being tested, so authorities know exactly where we are every day of the year, and authorities know we're open to those tests."