Chris Froome: I sensed mental weakness in Sir Bradley Wiggins
Last updated on .From the section Cycling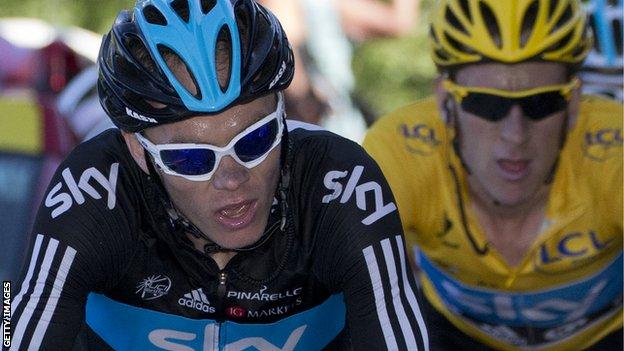 Tour de France champion Chris Froome said he felt Team Sky team-mate Sir Bradley Wiggins showed signs of mental weakness during his 2012 triumph.
Froome supported Wiggins in his win, but appeared to disobey orders when he pulled away during stage 11.
He attacked the leaders but was called back when Wiggins struggled.
Froome said: "He probably would argue he was on his limits physically but I felt it was more a mental thing that he switched off when he saw me going."
When asked by BBC Radio 5 live if it was a sign of weakness, Froome, 29, said: "Yes, it was to an extent."
Wiggins, now 34, went on to become the first Briton to win the Tour de France, but considered quitting the race due to Froome's actions, which also led to a falling out between the pair.
Froome, who finished the tour second before winning it himself in 2013, had dragged his team leader Wiggins up with Vincenzo Nibali and Jurgen van den Broeck and dropped main rival Cadel Evans in the process, when he decided to pull away.
Froome said: "I thought he was stronger than he was at that point and that he could stay with other rivals when I attacked."
Froome also admitted that, had he been racing 10 years earlier, he would have been tempted to take performance-enhancing drugs but would not have gone through with it.
Lance Armstrong was stripped of his seven Tour de France titles between 1999 and 2005 as drugs blighted the sport.
"Certainly, I would have been tempted but that is not a decision I would have made," said Froome.
"I would have realised that was not a sport I wanted to be involved in. It isn't the dream or passion I thought it was when I was growing up in Kenya.
"It goes back to the fact I love riding my bike, I don't do it for the success or anything else.
"I am ambitious and want to succeed but I am not going to go to any lengths and dishonour myself to win."
Froome and Wiggins will race in different warm-up events ahead of this year's Tour de France, which starts in Yorkshire on 5 July.
Froome competes in the Criterium du Dauphine from 8-15 June, a race he won in 2013, while Wiggins will race in the Tour of Switzerland.