RAAM: Shusanah Pillinger bid ends with broken collar bone
Last updated on .From the section Cycling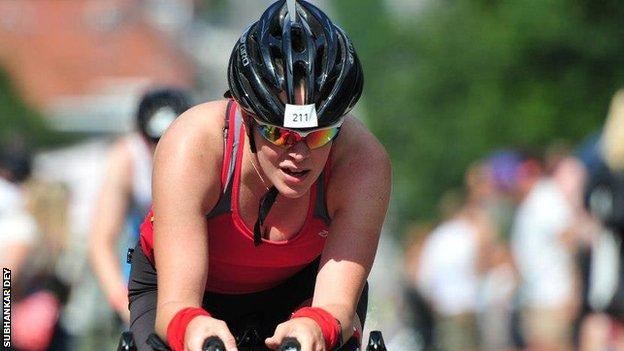 Shusanah Pillinger's attempt to become the first British woman to complete the Race Across America was ended by a broken collar bone.
The 38-year-old had covered more than 2,000 miles of the 3,000-mile distance when crashing in West Alton, Missouri.
"Luckily I'm not too fazed by the much dreaded 'did not finish'," she said.
"Better to have tried and learnt, than to have never tried. No such word as can't, no such word as failure. Many thanks for all the heartfelt support."
The race started on Tuesday, 10 June and Pillinger was on course to make history and become the first British woman to complete the event solo before the 12-day cut off point, until her slip on day nine, which came just two miles before a scheduled sleep stop.
Pillinger, raised in Cambridge and living in St Albans, had remained committed to the competition, despite the death last month of her father, famed planetary scientist Colin Pillinger, best known for his 2003 attempt to land a spacecraft on Mars.
She had self-funded her attempt to cycle from Oceanside, California to Annapolis, Maryland.
Only 273 people have ever completed the race solo since its inception in 1982, 35 of whom were women and none have been British females.
Pillinger qualified by winning a 400-mile race in India, and has finished London-Edinburgh-London and London to Paris.
In 2009, Gloucester's Ann Wooldridge became the only British woman to reach the end of the RAAM course and, although injury meant she finished a day over the time limit, she received recognition from the Ultra-Marathon Cycling Association (UMCA).