Lance Armstrong's bid to dismiss federal lawsuit is rejected
Last updated on .From the section Cycling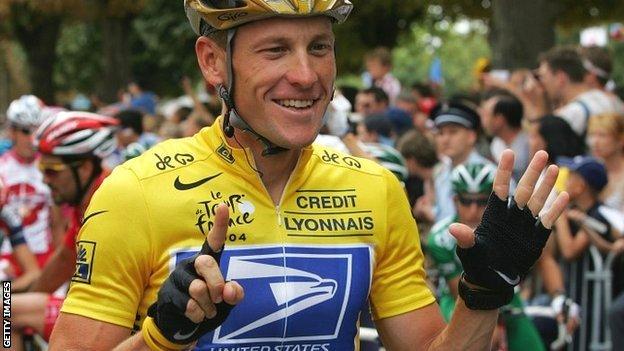 Lance Armstrong's bid to dismiss a federal lawsuit claiming his US Postal team defrauded the government of sponsorship money while doping has been rejected by a US judge.
The complaints were brought by the US government and the disgraced cyclist's former team-mate Floyd Landis.
Armstrong is being sued for money that US Postal received from 1998 to 2004.
The Texan was stripped of his seven Tour de France titles before admitting he took performance-enhancing drugs.
Armstrong, who won his Tour de France titles between 1999 and 2005, was banned for life by the United States Anti-Doping Agency in August 2012.
The US Justice Department, which paid his team about $40m through its postal service sponsorship, joined the 2010 "whistleblowing" lawsuit filed by ex-US Postal rider Landis, who himself admitted using drugs throughout his career.
Last year, Armstrong settled a lawsuit brought by an insurance company that paid him $3m (£1.9m) for successes while doping.
Nebraska-based Acceptance Insurance said the Texan's drug use meant their policy with him was void.
Meanwhile, Texas-based company SCA Promotions is pursuing a lawsuit aimed at recouping $12m over insured bonuses paid to Armstrong when he claimed his fourth, fifth and sixth Tour de France wins.
Armstrong, who also had to return the time-trial bronze medal he won at the 2000 Olympics after his confession to television host Oprah Winfrey in January 2013, was reported to be worth $125m (£78m).