Tour de France 2014: Home Tour will be emotional - Geraint Thomas

By Geraint Thomas
Five-time Tour de France rider
Last updated on .From the section Cycling212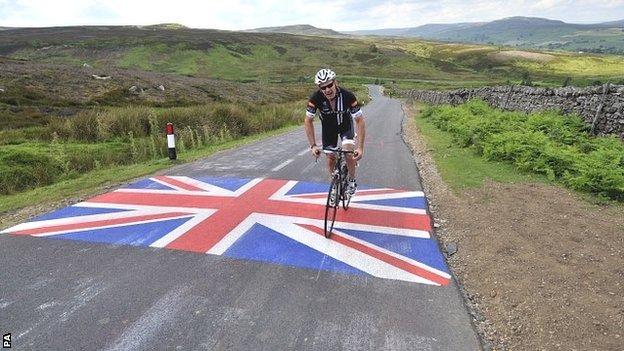 The Tour de France is coming to Britain for the opening three stages of this year's 101st edition of the world's most demanding bike race.
Geraint Thomas is one of four British riders who will be on the start line in Leeds on Saturday, alongside defending champion Chris Froome for Team Sky, sprint specialist Mark Cavendish (Omega Pharma - Quick-Step) and 21-year-old Tour debutant Simon Yates (Orica GreenEdge).
In the first of a series of columns for BBC Sport through the course of the race, Thomas explains the excitement of racing the Tour on home soil, why Cavendish could win two of the first three stages, and his role in Froome's bid for a second straight overall victory.
A 'home' Tour - 'it's going to be emotional'
When I first rode the Tour with Team Barloworld in 2007, the first two stages began in London and the streets were packed full of people. The atmosphere was incredible and the crowds were so large you couldn't even get off the bike to take a leak without ruining somebody's shoes.
Nobody could have predicted how big cycling in the UK has become since. It is just getting bigger and bigger. You would never have thought we would have all the track success, all the Olympic medals and two successive British winners of the Tour de France in Bradley Wiggins in 2012 and Chris Froome in 2013.
But these next few days riding the Tour on 'home' roads will be very special. It will be an emotional and exciting time.
Yorkshire is great for riding and there are plenty of keen cyclists in the county. Being one of only four British guys means it will be full on, but I'm really looking forward to it.
You do get emotional and wrapped up in racing but especially so at the Tour, because every day there is some talking point or controversy, something going on, it's like a soap opera and it's great to be involved in it.
I'll try to soak up the atmosphere as much as I can but once you're there and concentrating on the race there isn't time for much else. It's not that you want to hide from people, you just need to be in that bubble.
But it always gives you a buzz when you see the popularity growing all the time. The atmosphere created by the fans out on the road definitely gives you goose-bumps and an added boost. It's going to be very exciting.
Team Sky Tour de France squad
Chris Froome (GB), Richie Porte (Australian), Geraint Thomas (GB), Mikel Nieve (Spanish), Bernhard Eisel (Austrian), Vasil Kiryienka (Belarusian), David Lopez (Spanish), Danny Pate (American) Xabier Zandio (Spanish).
There's not going to be as many Brits competing at this year's race as in previous editions, but that's mostly just down to bad luck.
Steve Cummings of BMC fractured his elbow in the Tour of Belgium in May, which was really unfortunate. At Team Sky Ian Stannard fractured his back in March and Peter Kennaugh had to pull out of the Tour de Suisse in June with illness, just as he was coming into a bit of form, but he did win last weekend's national road race in Abergavenny.
Put your money on Cav for a home win
I know Mark Cavendish's mum is from Harrogate, where the first stage of the Tour finishes, and that will give him extra motivation to win.
It would be great for British cycling if Cav could do it and take the yellow jersey for the first time in his career.
If I was a betting man I'd probably put money on him to win both the opening stage and stage three in London. His lead-out team is pretty spot-on and he will be so determined to win in the UK.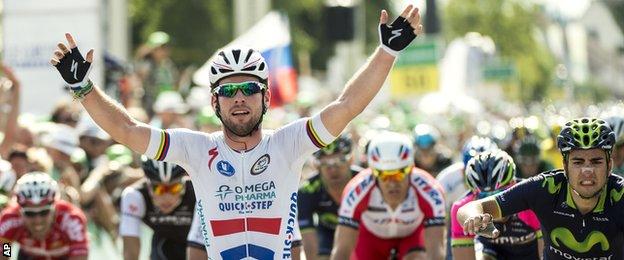 The finish in Harrogate on stage one is a bit of a rolling drag up to the line, a bit like in Copenhagen where Cav became world road race champion in 2011, so that could bring in other riders like Peter Sagan.
The finish in London will be flatter but just as manic and Cav will be just as up for it - especially if he does miss out on the first stage. There will be the usual guys competing with him, the likes of Marcel Kittel and Andre Greipel, but Cav should be fresh and when he really wants to win, he can give a lot.
It will be interesting to watch them on television after the race, because in the Team Sky squad there's nobody who can compete with the very top sprinters.
For us it will all be about getting Froomey safely to within 3km to go and then just staying out of trouble and getting over the line.
Riding for Froomey
Our whole race will be about winning the yellow jersey again for Chris. For me there are no individual aspirations for the Tour, it's all about winning the General Classification with Froomey.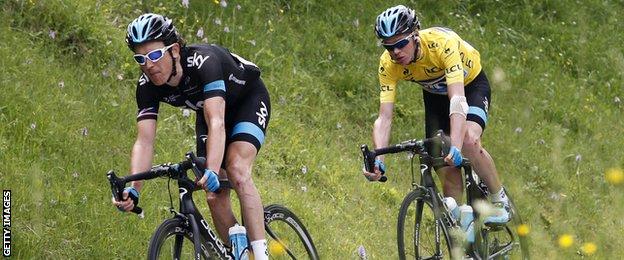 All we will be thinking about is working for him. It doesn't make sense to waste energy in a breakaway for example, when in a later stage he might need your support.
On the days where there is a bit more racing there might be room to be a bit more spontaneous. Maybe on stage two with the hilly finish going into Sheffield or on the cobbled stage five starting in Ypres, you might just happen to slip away approaching the last five kilometres, but generally you don't go into the stage planning to do something.
In the first week we will be trying to keep Froomey out of trouble at the front of the peloton, and once we get to the mountains, for me it will be a question of just slotting into the team depending on how well I am climbing.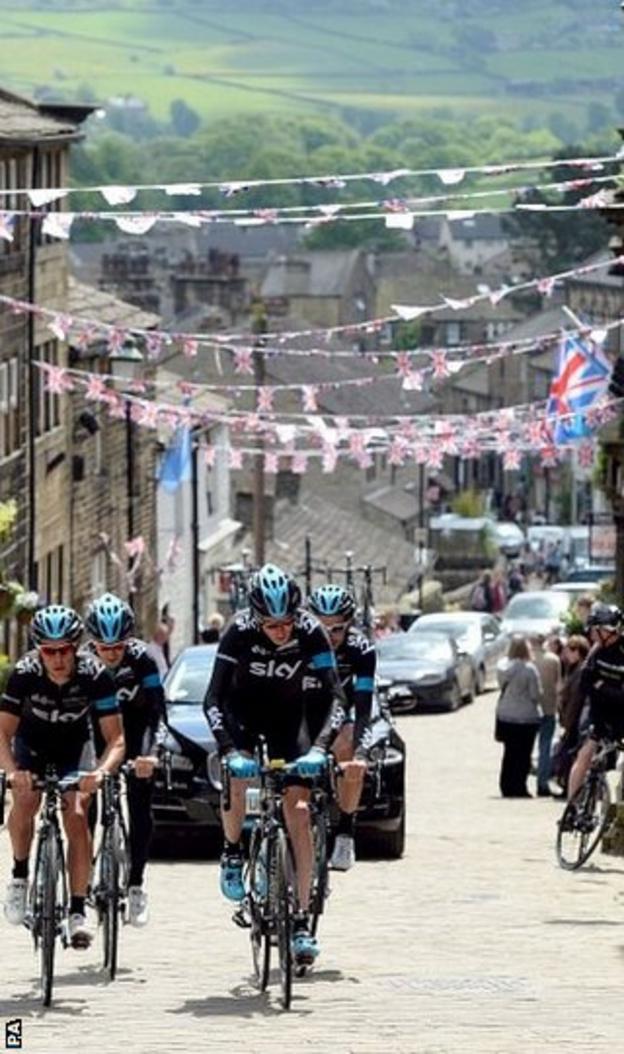 That's something I've been working on since the end of the classics season, trying to chip off a bit of extra weight. In early May we had a two-week camp in Tenerife, which is a great place to concentrate on your training. You do a lot of climbing, you get a lot of rest, you eat well. It's a good place to knuckle down and get your work done.
We have also been doing a few recces of some of the Tour stages. The idea of a recce is just to ride the course and have a look at it. Last week we were looking at the last 110km of stage two. I know the roads well from riding in the Tour of Britain but it's good to re-familiarise yourself with everything.
Towards the end of that stage it will be important to be in a good position for the last 60 or 70km. Holme Moss is a solid climb and coming into Sheffield there are twisty, narrow roads and short, sharp climbs around Strines Moor. There is a lot of stress in the peloton at the start of the Tour anyway but the day's racing will add to that; there will definitely be a lot going on.
Earlier in the year we looked at the cobbled stage five and straight after the [Criterium du] Dauphine [stage race] in June we did a few of the Pyrenees stages with Froomey and Richie Porte, including some of the climbs on stage 17, which I think could be the hardest day of the three weeks.
Many of the main yellow jersey contenders will have done the same, so it doesn't necessarily give you an advantage, but being a little bit more familiar with what is coming is always a bonus.
Alberto Contador and Vincenzo Nibali are going to be Froomey's closest competitors. And from within the Team Sky squad, Richie and Mikel Nieve can both climb really well and will be his key helpers in the mountains.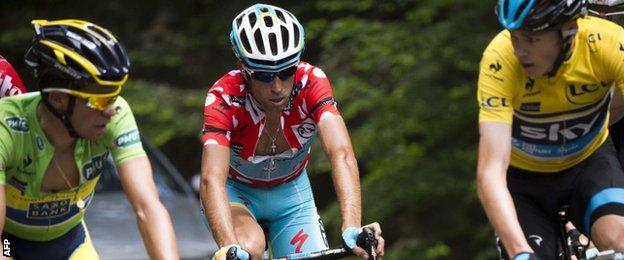 They can still play a role if anything was to happen to Froomey, but we're not thinking about that really. Hopefully they will be on a similar sort of time as the other GC guys after the first week, but we have these first three days in the UK to think about first.
It is going to be massive.
Geraint Thomas @GeraintThomas86 was speaking to BBC Sport's Patrick Jennings.
Listen back to an interview with Geraint and a full Tour de France preview in the 'Bespoke' podcast, first broadcast on BBC Radio 5 live on Wednesday 2 July, from 2100 - 2230 BST