Tour de France: Dave Brailsford wants to win with Frenchman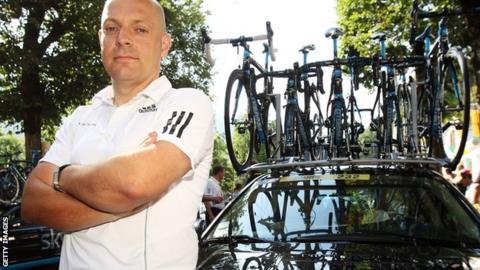 Team Sky principal Sir Dave Brailsford wants to guide a French rider to victory in the Tour de France.
Brailsford, 50, helped Sir Bradley Wiggins become the first Briton to win the Tour in 2012, and also masterminded Chris Froome's victory in 2013.
Bernard Hinault was the last Frenchman to win his home Tour, in 1985.
"I'd like to win with a Frenchman," Brailsford told L'Equipe. "I think we have to - for the Tour. That would be amazing. I think about it often."
Brailsford was instrumental in setting up Team Sky in 2009, with the aim of winning the Tour with a British rider within five years.
He resigned as performance director at British Cycling earlier this year after the team won a combined 16 gold medals at the Beijing and London Olympics, in 2008 and 2012 respectively.
"France is like my second home. And I know how passionate they are for the Tour," said Brailsford.
"I have this niggling idea. We won the Tour with a British cyclist - but when are we going to see a French cyclist win the Tour?"
Brailsford was reluctant to name a potential French winner.
Romain Bardet, 23, finished 15th in the Tour last year, while 24-year-old Thibaut Pinot was 10th on his debut in 2012.
"There's a new generation of French riders that have faith in themselves," added Brailsford.
"Little by little we are seeing the level of French cyclists go up, especially at Youth World Championship level."
Speaking at the conclusion of the third stage on Monday, Brailsford insisted his focus remained on helping Froome win this year's race and getting Team Sky racers on the podium.
He said: "This is the biggest cycling event every year and it would be great for them if a French guy won it.
"The comment was more about a national event. If it's won by the same nation's rider, what a fantastic thing that can be."