La Course at Tour de France major advance for women's cycling
Last updated on .From the section Cycling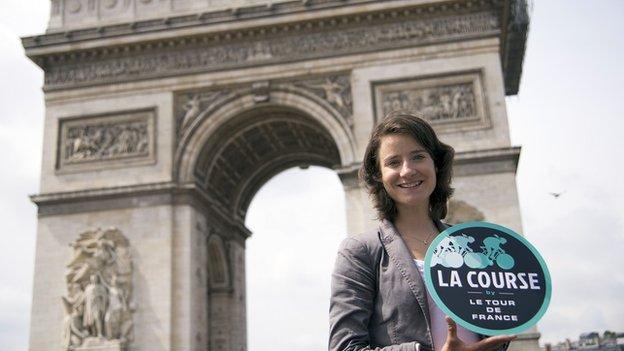 A women's race on the final day of the Tour de France is being hailed as the biggest showcase for women's cycling outside of the Olympics.
La Course will be shown in 157 countries and will see 120 women race 13 7km laps through Paris on 27 July.
However Tour organisers say it would not be practical to host a full women's stage race, like the men's three-week race, at the same time.
"It's impossible to organise another race," Christian Prudhomme said.
The Tour director told BBC Sport: "We are huge so it's the safety concerns. We can't cope with another race a couple of hours before the men's."
La Course is set to become an annual event to coincide with the men's Tour finale and Prudhomme said similar women's races could also be included at the end of the other Grand Tours, the Vuelta a Espana and Giro d'Italia.
Women's cycling: Tour de France campaign
Women's Tour de France began in 1984 as the Tour de France Feminin but stopped after 1989 event
Returned in 1992 but, after a legal battle over trademark rights, was forced to rebrand as the 'Grande Boucle' in 1998
Cancelled in 2004 because of logistical problems
Returned in 2005; won twice by Welsh cyclist Nicole Cooke before England's Emma Pooley won the last event in 2009
He said the Grand Tours could help give the elite women cyclists the exposure they needed to convince the media and sponsors to back their own races.
Dutch cyclist Marianne Vos is the world and Olympic road race champion. She is also part of a pressure group called La Tour Entier which is campaigning for a full women's race to be reintroduced to run alongside the men's.
A "women's Tour de France" was run in various guises from 1984 until 2009 but ended because of funding issues.
Vos, who finished third behind British winner Emma Pooley in 2009, was part of a delegation which met with the Tour organisers last September and agreed to La Course.
"Racing on the Champs Elysees has been a big dream for me since I was a little girl and now I will be racing there," Vos said.
There will be 20 professional teams competing and this will include British Olympic medallists Lizzie Armitstead and Pooley.
Vos said women's racing had developed massively over the last few years.
"This is a fantastic showcase after last year's Worlds and the 2012 Olympics," she said.
"I hear a lot of positive signs from spectators and from all the cycling world about women's cycling, which is really exciting.
"We're getting there step by step. I feel the public is ready to see more women's cycling."