La Course: Emma Pooley excited by Paris one-day race

By Anna Thompson
BBC Sport
Last updated on .From the section Cycling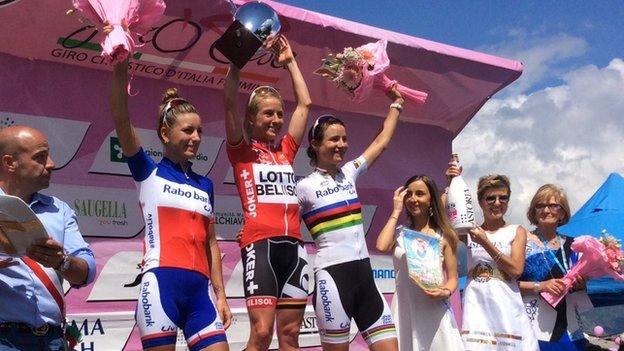 British cyclist Emma Pooley says she is excited by the prospect of Sunday's one-day La Course in Paris providing a boost for women's cycling.
The 13-lap 91km race will finish on the Champs-Elysees before the men's three-week Tour de France ends the same day.
A year ago Pooley started a campaign to revive a women's stage race in France, which she won when last held in 2009.
"On a scale of one to 10, I'd say that La Course is 11 on the excitement levels," Pooley, 31, told BBC Sport.
Lizzie Armitstead, Olympic silver medallist from London 2012, Sharon Laws and Hannah Barnes make up a quartet of British riders in the race, which also features the Netherlands' world and Olympic champion Marianne Vos, while Dutch sprinter Kirsten Wild and Italian Giorgia Bronzini are also strong contenders.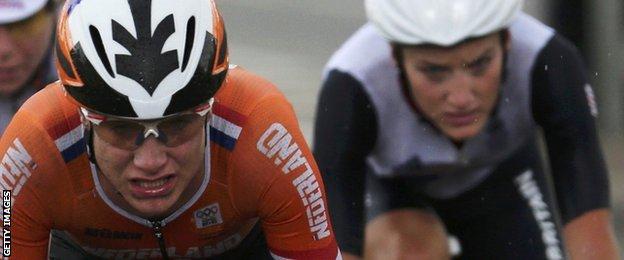 The race is being broadcast in 157 countries and Pooley added: "This event will have more viewers than any other women's race all year, probably even more viewers than the Olympic road race.
"It is great we get to show the world just how exciting women's road racing is.
"There was a hugely positive response from people who watched the women's road race at the 2012 Olympics. It made a fantastic impression on the seven million viewers, many of whom may never have seen a women's race before, and we need to keep building on that.
"But as a new event it's inevitably a test of how the fans respond. So if the viewers enjoy La Course, I hope they make their wish to see more women's racing public."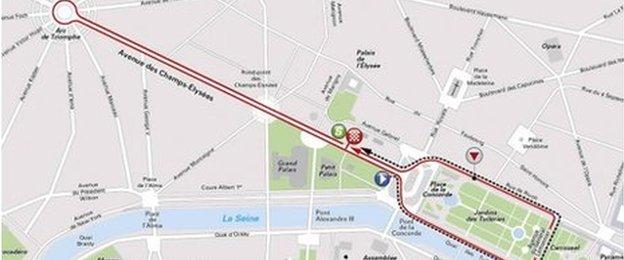 Pooley is part of a pressure group called La Tour Entier, which includes Vos. They started a petition calling for a women's stage race and collected almost 100,000 signatures.
Tour de France organiser, Amaury Sports Organisation, took notice and agreed to stage the one-day race, which will feature 120 riders from 20 professional teams.
The total prize pool for the women's race is 22,000 euros (£17,400), the same as for a stage in the men's race, which Pooley said was "an important principle, but not actually the main point".
"The desire for this event is not about prize money," the Beijing silver medallist added. "It's about wanting the opportunity to race in front of the eyes of the world, at the greatest cycling event in the world. It's about the bike race.
"ASO deserves huge credit for having the vision and leadership to stage La Course."
While the winner of the men's race receives the classic yellow jersey, the triumphant woman will be presented with a trophy.
Christian Prudhomme, the director of the men's Tour, has already said that La Course is set to become an annual event to coincide with the men's finale in Paris and he has also indicated that similar women's races could be included at the end of the other Grand Tours, the Vuelta a Espana and Giro d'Italia.
Women's cycling: Tour de France campaign
Women's Tour de France began in 1984 as the Tour de France Feminin but stopped after 1989 event
Returned in 1992 but, after a legal battle over trademark rights, was forced to rebrand as the 'Grande Boucle' in 1998
Cancelled in 2004 because of logistical problems
Returned in 2005, won twice by Welsh cyclist Nicole Cooke before England's Emma Pooley won the last event in 2009
While Pooley is excited about Sunday's event, she is not satisfied with a promise of one-day races and will not end her campaigning until more top-class women's stage races are given the recognition - from sponsors and the media - they deserve.
Versions of a women's Tour de France, called La Grand Boucle Feminin, were held between 1984 and 2009, but were discontinued through lack of sponsorship. Pooley won the final edition but it was was only four stages long and she described it as "more of a Petite Boucle than Grande".
She is the women's commission of world governing body the UCI, on which she is a representative, will be influential in advancing her sport.
"The women's commission is just one small part of the UCI but it is a forum where we can discuss and channel changes. I sense the will is there with the UCI but nothing will change overnight," she said.