Jonathan Tiernan-Locke binge drinking claim rejected
Last updated on .From the section Cycling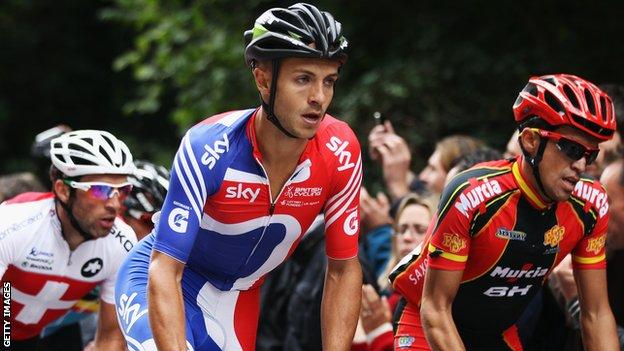 Former Team Sky rider Jonathan Tiernan-Locke has had his two-year ban upheld after his attempt to attribute a failed drugs test to alcohol was rejected.
The 29-year-old Briton was suspended by the International Cycling Union (UCI) in July after a sample from September 2012 found irregular blood samples.
Tiernan-Locke blamed a drinking binge to celebrate joining Team Sky.
However, UK Anti-Doping said that "did not sufficiently explain the abnormal values obtained from the sample".
A doctor presenting evidence on behalf of Tiernan-Locke claimed at a hearing in July that the 2012 Tour of Britain winner had consumed more than 33 units of alcohol in six hours on the evening of 20 September.
The rider said he had drunk the majority of two bottles of wine over dinner with his girlfriend in Bristol and estimated that he had a further "six or seven" double measures of gin before moving on to vodka.
Tiernan-Locke said he had been hungover when he woke the following morning so took aspirin and paracetamol and spent much of the day in bed before travelling with the rest of the Great Britain team to the Road World Championships in Maastricht that evening.
He suggested that, when his irregular sample was taken the following morning, he was dehydrated because a fear of making himself vomit had caused him not to drink any water.
The UKAD panel accepted that he was drunk but had "considerable reservations" about whether he could be suffering from severe dehydration on the eve of a major race yet still go on to finish as the best of the British entrants.
Jonathan Tiernan-Locke factfile
1993: Takes up road racing at the age of 18 and joins a French amateur team
2005: Diagnosed with a virus which affects his immune system and forces him to stop racing for more than three years
2010: Returns to racing with Rapha Condor team and wins king of the mountain jersey in the Tour of Britain the following year
2012: Signs for Endura Racing, and goes on to win the Tour Mediterraneen, Tour du Haut Var, Tour Alsace and the Tour of Britain
October 2012: Joins Team Sky on a two-year deal
"It is inconceivable that a professional rider, selected for the first time to ride for his country at a senior level in the world championships, would not have ensured that he was fit to race and had ensured that he had taken on sufficient water to deal with any hangover which he was still experiencing," the written verdict said.
The UKAD statement added he had used "a prohibited substance (an erythropoiesis-stimulating agent) and/or prohibited method (blood doping) to boost his levels of haemoglobin".
It added: "This was based on expert opinion on the conclusions drawn from a blood sample taken on 22 September 2012 under the UCI Athlete Biological Passport (ABP) programme."
Tiernan-Locke's ban, which runs until 31 December, 2015 was therefore upheld, while he has been stripped of his 2012 Tour of Britain victory - earned while with Endura Racing - and his 19th place at the 2012 UCI Road World Championships.
Sky terminated his contract in the immediate aftermath of the announcement on 17 July.
The Plymouth-born rider pulled out of the 2013 Road World Championships in September after being asked to explain his results by the UCI, and has not raced since.