Jens Voigt retires after one last breakaway attempt
Last updated on .From the section Cycling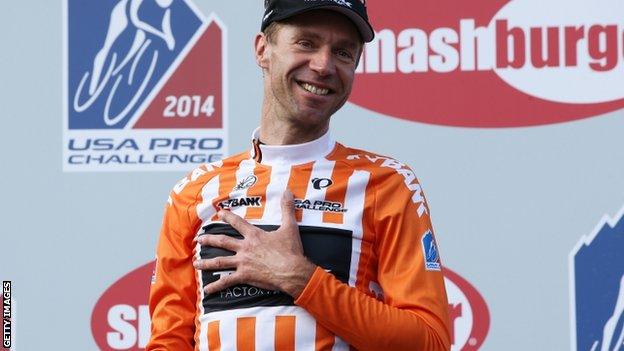 Germany's Jens Voigt insisted the time was right for him to retire from cycling after making a final breakaway attempt in his last professional race.
The 42-year-old finished his 17-year career at the USA Pro Challenge race, which ended on Sunday in Denver.
The Trek rider said: "It was a priority for me to keep the rubber side down. I wanted to give it one last go.
"I try to look at the positive side. No more suffering. No more stress. No more risk of crashing."
Voigt, who won two individual Tour de France stages in his career and one at the Giro d'Italia, after getting in a break, told BBC Sport that "you have got to try it 10 times to make it work once".
He tried on stage four of the seven-stage race in America but was caught in the final kilometre. He went again on Sunday's 78-mile leg from Boulder to Denver before being reeled in again and settling for 34th on the stage and 24th overall.
"I was going to try to be a professional to the last moment on the bike," said Voigt, who was famous for shouting "shut up legs" when fatigue set in during a race.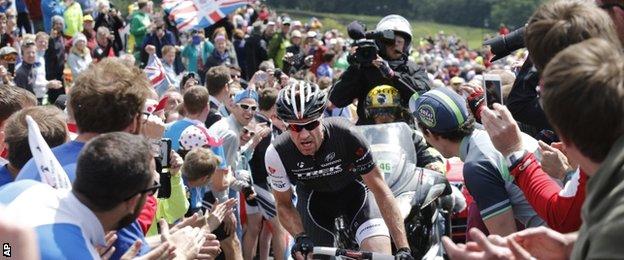 His failure to win a stage on the race means Voigt ends his final season without a victory after winning at least one race in each of his previous 16 years.
"Now I have a long, great vacation ahead of me," the father of six children added.
"I had a great farewell tour this year. It was heart-warming and let me know it was a good decision. I could have done one more year but I wouldn't be as good and as strong as I was this year.
"I will embrace my future with open arms. Let's see what the next chapter is."
America's Tejay van Garderen finished sixth behind compatriot and final-stage victor Alex Howes to win the week-long race.