Jens Voigt to attempt iconic hour record in Switzerland
Last updated on .From the section Cycling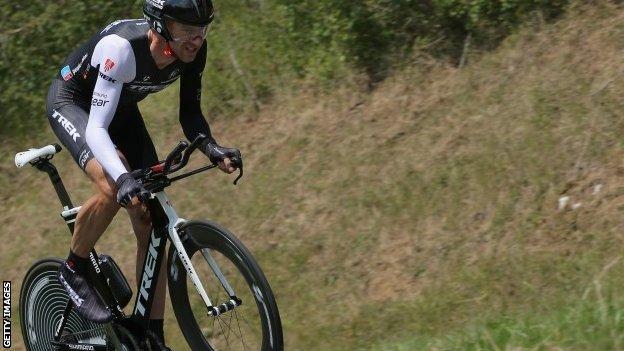 Germany's Jens Voigt will attempt to break the iconic 'hour record' in a Switzerland velodrome on 18 September.
Czech rider Ondrej Sosenka set the current record of 49.700km in 2005, although Britain's Chris Boardman rode 56.375km in 1996, using a 'Superman' technique that was outlawed in 2000.
"This is not a circus act," said Voigt, 42. "Maybe my attempt could kick off a new round of hour-record attempts."
Sir Bradley Wiggins, 34, is interested in taking on the record in 2015.
Hour record landmarks*

Year

Rider

Distance

1876 (first record)

Frank Dodds

26.508km

1893

Henri Desgrange

35.325km

1898

Willie Hamilton

40.781km

1935

Giuseppe Olmo

45.090km

1972

Eddy Merckx

49.431km

2000

Chris Boardman

49.441km

2005

Ondrej Sosenka

49.700km

*Does not include those cancelled from record books by UCI
Cycling's governing body, the UCI, announced changes to the rules of the hour record in May of this year - riders have one hour to ride as far as they can around a velodrome - allowing the use of endurance track bikes with aero bars and helmets, likes those used in pursuit events.
In 2000, the UCI had ruled that any attempts had to be done using a traditional bike, stifling innovation and cancelling records set by Scotland's Graeme Obree in 1994 and Boardman two years later.
Boardman returned on a traditional bike in 2000 to set a new record of 49.441km, 10m further than Belgian legend Eddy Merckx, who had held the record from 1972.
Sosenka, 38, whose career ended when he failed a drugs test in 2008, eclipsed Boardman in 2005.
"I'm delighted that one of the most popular riders of the modern era, Jens Voigt, is going to make an attempt on this, the most iconic of all the UCI's records," said president Brian Cookson.
"It is exactly what we hoped would happen when we changed the rules earlier this year to allow the use of modern track bike design and technology.
"I'm sure his attacking style and willingness to commit himself 100% will provide a superb spectacle."
Voigt is a breakaway specialist on the road who retired in August, but he is not quite finished in the sport yet. He added: "Everyone saw the memo from the UCI. It's been four months and I find it quite strange that nobody has given it a try so far.
"The hour record is one of the oldest events in our sport. I want to put a little bit of light and focus on this.
"The UCI wanted to give back some recognition to the event and I follow their reasoning. It will be no pleasure cruise, but I'm really convinced that I can make it.
"I have no illusion to keep the record once [four-time world time trial champion] Fabian Cancellara and other specialists start having a go. But I like the idea of telling my grandchildren about it, when they sit on my lap when I'm 75."