End to End 2014: Ben Thomas wins in record breaking time
Last updated on .From the section Cycling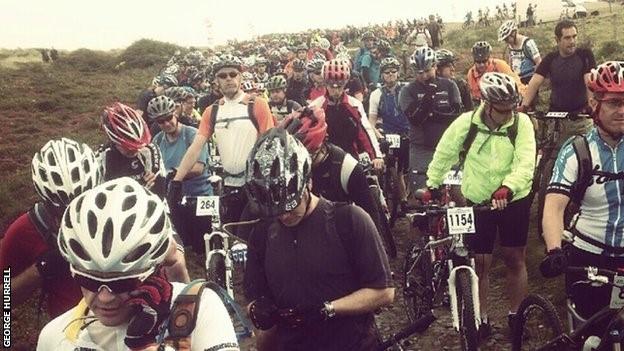 England's Ben Thomas set a new course record to win the 2014 End to End Mountain Bike Challenge in the Isle of Man in warm, dry conditions on Sunday.
The team Vauxhall Motors cycling team rider completed the 46-mile (75km) course in a time of two hours 44 minutes and 36 seconds.
Thomas said: "It's great to come back and conquer the event."
The 25-year-old from Reading finished two-and-a-half minutes ahead of team-mate Isaac Pucci with Ed Perry third.
Emma Craddock was the leading female in a time of 3:37:36.
About 1,400 cyclists, which sees cyclists ride from the Point of Ayre in the north of the island to Cregneash in the south, started the event with 1,005 completing the full distance.
Riders tackle a variety of terrain during the event and climb more than 1,500 metres.