'Naked' team cycling kit unacceptable - Brian Cookson
Last updated on .From the section Cycling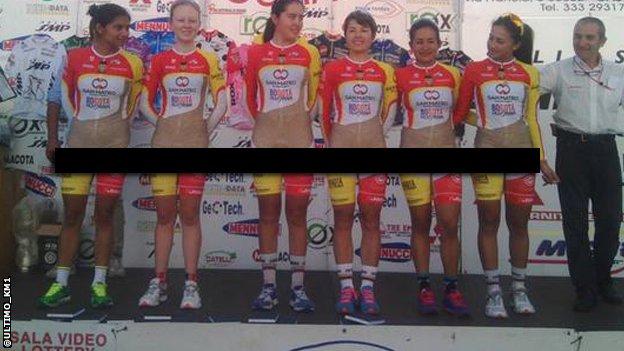 A cycling team's kit which made the female riders look naked has been described as "unacceptable".
Photos of the Colombian team's outfit for a race in Italy showed what seemed to be a skin-coloured fabric around their waist and hips.
Brian Cookson, president of the International Cycling Union (UCI), said: "It is unacceptable by any standard of decency."
The UCI said it would remind the team of their responsibilities.
Photos of the six IDRD-Bogota Humana-San Mateo-Solgar cyclists - shown above with a slight alteration - were taken at the Giro della Toscana in Tuscany and caused controversy on social media at the weekend.
However, reports in Colombia have suggested the kit was designed by one of the female riders, approved by her team-mates and has been worn for several months.
What cycling's governing body said
"The UCI will be sending a letter to the Colombian Federation reminding them of their responsibility regarding article 1.3.046 in the control of regional and club team kits that compete in international events."
"One of the riders appears to have designed it without the intent on making it look as though they were partially nude," Colombian cycling journalist Klaus Bellon told BBC World Service.
"People in Colombia have tried to protect and stand up for the women who are being made fun of for something that wasn't intended at all."
The mainly red and yellow outfit appears to be largely ordinary from the midriff up, with the exception of what looks like a flesh-coloured band across the torso.
Some observers have suggested the strip across the waist is gold coloured but appeared lighter in photographs.
Cookson wrote on Twitter on Sunday: "To the many who have raised the issue of a certain women's team kit, we are on the case."
Former British Olympic champion Nicole Cooke said: "This has turned the sport into a joke. Girls stand up for yourselves - say no."