'Naked' team cycling kit defended by Colombian rider
Last updated on .From the section Cycling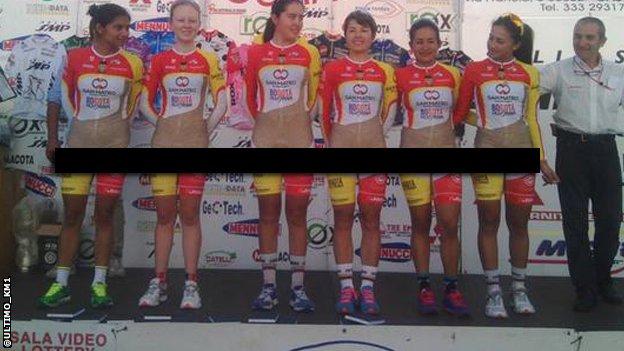 A Colombian cyclist has defended the kit she designed after it appeared to make the female riders look naked.
The outfit was deemed "unacceptable" when photos at a race in Italy showed what seemed to be a skin-coloured fabric around their waist and hips.
But Angie Tatiana Rojas said the strip around their midriff was coloured gold.
"It's sad it takes something like this for cycling, and women's cycling in particular, to get this much press," said the 22-year-old rider.
Photos of the six IDRD-Bogota Humana-San Mateo-Solgar cyclists - shown above with a slight alteration - were taken at the Giro della Toscana in Tuscany and caused controversy on social media at the weekend.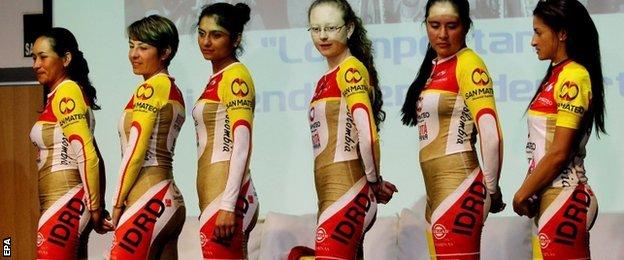 Brian Cookson, president of the International Cycling Union (UCI), said: "It is unacceptable by any standard of decency".
The organisation later said it had "reminded the team of their responsibilities".
But at a team news conference on Thursday, Rojas said: "I've already said that I designed the uniform and, as an athlete, as a woman, as the cyclist that I am, I wouldn't be ashamed with this kind of design.
"They're the sponsors' colours; there's nothing scandalous in that. We wear our uniform with pride and we are not considering changing it.
"In this team there are mothers with families, people who sacrifice a lot for the sport, who love cycling and have clear objectives rather than in being the centre of such scandals."
The kit has been worn for several months and other pictures of it, in different light, show the middle strip to be a darker hue than in the photo that sparked controversy.
"It's the primary colour used by Solgar, a company that makes vitamins, and is also similar to the one used by San Mateo University, another one of our sponsors," Rojas told the Cycling Inquisition blog.
"In fact, it was going to be the kit's primary colour, throughout the upper portion.
"But within the peloton, that colour would not be visible enough, so we opted to switch it to the shorts, and instead used red and yellow on the upper part, for the sake of visibility. The red and yellow are the colours of the flag of Bogota [the capital of Colombia]."
Rojas said the team's sprits were high despite the controversy.
What cycling's governing body said:
"The UCI will be sending a letter to the Colombian Federation reminding them of their responsibility regarding article 1.3.046 in the control of regional and club team kits that compete in international events."
"We have to make the most of this moment, however it came to be. In the end, our reason for training, for racing and for every pedal stroke is to make our families proud, and to represent our city and Colombia with pride," she said.
"I offered to design the kit, in order to help my team, and to be helpful to the organisation and my fellow riders. I always aim to be as helpful as possible both on and off the bike.
"Even before this, we were very close and worked together as a team. We are friends first, and women who know what it's like to sacrifice and train every day.
"So we are doing well and we are at peace because we know that as a team, everything we've done has always been done with the best intentions. No malice or anything other than love and passion for the sport has ever been a part of what we've done, or continue to do."