Sir Bradley Wiggins will try to break world hour record
Last updated on .From the section Cycling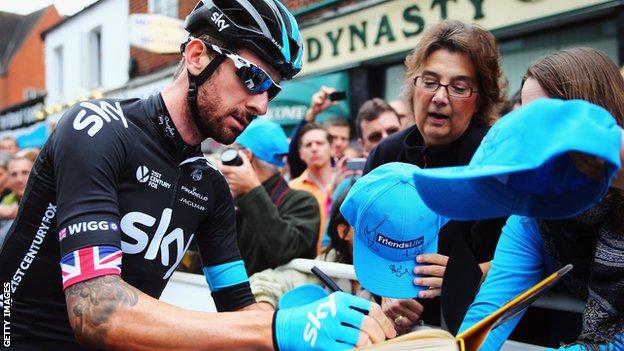 British cyclist Sir Bradley Wiggins says he will attempt to break the world hour record next year.
"I want to prepare for it properly," he said. "It will give me something to get out of bed for in the winter."
Team Sky rider Wiggins said he had been inspired by the efforts of Jens Voigt, the 43-year-old German who broke the record last week.
Voigt completed more than 200 laps of a velodrome in Switzerland to better the previous mark of 49.700km - set by Czech rider Ondrej Sosenka in 2005.
Hour record landmarks*

Year

Rider

Distance

1876 (first record)

Frank Dodds

26.508km

1893

Henri Desgrange

35.325km

1898

Willie Hamilton

40.781km

1935

Giuseppe Olmo

45.090km

1972

Eddy Merckx

49.431km

2000

Chris Boardman

49.441km

2005

Ondrej Sosenka

49.700km

2014

Jens Voigt

51.115km

*Does not include those cancelled from record books by UCI
"I want to have a go at the one hour record next year after what Jens did last week," said Wiggins.
"I was a bit surprised by Jens's decision to do it but what he did was fantastic and fully deserved.
"I could just go and do it next week but if I do it, I'll only do it once."
Voigt's record was set on a track pursuit bike after governing body the UCI changed the rules regarding the use of aerodynamic equipment.
In 2000, it had ruled traditional bikes had to be used, stifling innovation and cancelling records set by Scotland's Graeme Obree in 1994 and British Olympic champion Chris Boardman two years later.
Boardman returned on a traditional bike in 2000 to set a new record of 49.441km, 10 metres further than Belgian legend Eddy Merckx, who had held the record from 1972.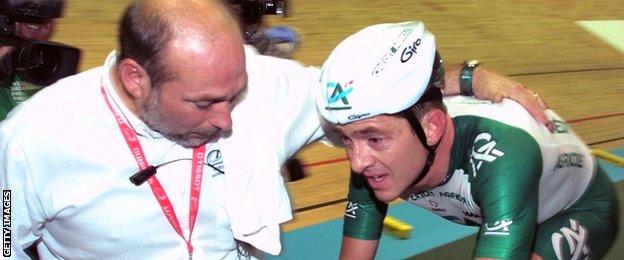 Sosenka, whose career ended when he failed a drugs test in 2008, eclipsed Boardman in 2005.
"It was encouraging Jens went so fast. It set a marker, and it was good for the sport," added Wiggins.
"Someone had to do it first and now it's a realistic aim... not like the record Chris Boardman set 14 years ago!"
Wiggins, who will try to win a first time trial title at the Road World Championships in Spain on Wednesday, also confirmed he will be with Team Sky next year "in some form".
But he said he was unlikely to compete in the Tour de France.
"I'm definitely going back to the track. That's not changed and whatever I do will be to support that," he said.
"I think the Tour de France is probably out the window, and the world time trial, because of the demands and trying to change your body shape. It's very different for four-minute efforts and one hour."