Lizzie Armitstead confident of winning world title in Spain
Last updated on .From the section Cycling
Road World Championships
Venue:
Ponferrada, Spain.
Dates:
21-28 September
BBC coverage:
Live women's road race on BBC One, BBC Two & Red Button on 27 September; live men's road race on Red Button and BBC Two on 28 September. Live text commentary of men's and women's road races on BBC Sport website.
Britain's Lizzie Armitstead says she will be "disappointed" if she does not win Saturday's women's road race at the World Championships in Spain.
"I would like to be world champion," the 25-year-old told BBC Sport. "It's the first year where I can say that with some genuine belief.
"If I don't win I will be disappointed. It's the best chance I've ever had."
Armitstead believes the undulating nature of the 127.4km course, made up of seven 18.2km laps, is suited to her style of riding as she looks to become the fourth British winner of the women's road race.
GB medals at women's world road race
Gold
- Beryl Burton (1960, 67); Mandy Jones (1982), Nicole Cooke (2008)
Silver
- Beryl Burton (1962); Bernadette Swinnerton (1969); Nicole Cooke (2005)
Bronze
- Mandy Jones (1980); Nicole Cooke (2003, 06)
"The course is really hard. It's relentless and that's what suits me," she said. "Repeated efforts with minimal recovery is what suits me and what I will try and benefit from.
"I came to recce the course in June which is the first time I've done that prior to a World Championships so I feel more prepared.
"It's been the best season of my career so far. People around me are saying 'Lizzie it's your course' so I guess I should listen to them."
Armitstead, who has a best World Championships finish of seventh in 2007, will be supported in her effort by double junior world champion Lucy Garner and Hannah Barnes, both of whom were in England's Commonwealth Games team, and Britain's 2013 junior road champion Anna Christian.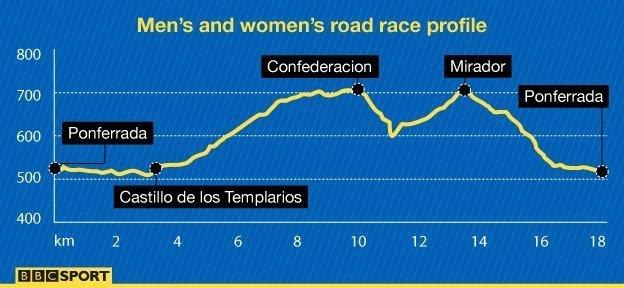 With more than 2,000m of climbing during the race, the six-strong team also features mountain bike specialists Alice Barnes and Annie Last.
"There's been a lot of talk about the road team. But we are in a transition period where we are struggling to find a complete team from the road," Armitstead explained.
"The two mountain bikers are the best in the world at what they do so no reason why they shouldn't have an impact."
Three-time champion Marianne Vos, who beat Armitstead into second at the London Olympics, believes the British rider will be among her fiercest rivals in Ponferrada.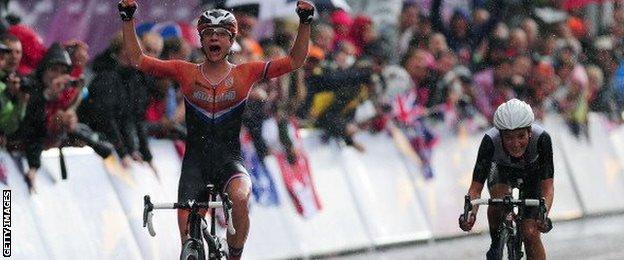 "This season she showed she can be at a top level for a whole year, she has good chances," said the Dutchwoman, who won her first title in 2006, finished second in each of the following five years and has won the last two editions.
Armitstead, however, does not appear to be as wary of Vos, despite her rival winning this year's inaugural women's Tour of Britain, the Giro Rosa and one-day La Course by Le Tour de France in Paris.
"Sometimes Vos is put on this pedestal as being superhuman and this is how she has been racing in previous years but it does have to come to an end and hopefully it will be this year," said the Otley racer.
"Vos at a World Championships is always the one to beat but she's definitely not as good as she normally is. She's beatable."