Simon and Adam Yates: Bury boys on a twin track to the top

Last updated on .From the section Cycling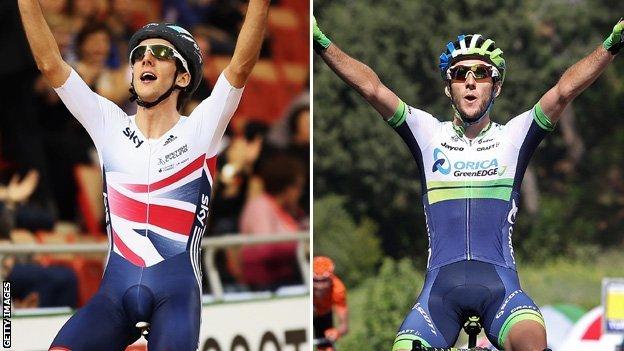 "Hate talking about themselves", "don't like to make a fuss", "terrible at returning emails"… there have been times this week when this feature looked like it might have to go ahead without its co-stars.
Agents, press officers and parents were called upon; emails, texts and prayers were sent.
But then it happened. They got in touch. Simon first, leading the way, then Adam: the story of their lives, until this season, at least, but more on that later.
There is trouble brewing for the Yates twins, though.
Matt White, Sports director at Orica Greenedge
"They're like bulls at a gate. And they've got a bit of mongrel about them"
If they keep riding like they have over the past 18 months, they are going to have to put up with a lot more frantic journalists.
Having grabbed the cycling world's attention with a series of eye-catching results last year, the brothers stepped up to the big leagues this season, the UCI World Tour.
'Neo-pros', as they are called in cycling, often find this daunting. The races are longer, faster, more intense. Most spend at least a season just surviving.
"I enjoy racing," Simon told me matter-of-factly. "I'm not there to roll around at the back. I want to get stuck in at the pointy end of the race. We both do."
And on Sunday the two boys from Bury ride together as part of Great Britain's nine-man road race team at the World Championships in Ponferrada, Spain.
"They're hungry, hey?" said Matt White, their boss at Orica Greenedge, the Australian team they slightly surprisingly signed for last year.
"They're like bulls at a gate. And they've got a bit of mongrel about them.
"That can be tricky. But I would much rather have to calm somebody down than gee them up."
Best results in 2014

Simon Yates
Adam Yates
1st

Mountain classification, Tour of Alberta

1st

Overall, Tour of Turkey

3rd

National Road Championships

1st

GP Industria & Artigianato di Larciano

7th

Overall, Tour of Slovenia; 1st Young rider classification

1st

Young rider classification, Tour de San Luis

5th

Overall, Tour of California

5th

Giro della Toscana

6th

Overall, Criterium du Dauphine
It has been like that ever since their dad John got knocked off his bike.
He had recently given up fell-running because his knees had packed up but could still ride and had already caught the cycling bug by the time he came second best in a scrape with a car.
It was a long recovery and John missed his regular outings with the local club, Bury Clarion. To stay in touch, he took his eight-year-old boys to watch Clarion's weekly session at the Manchester Velodrome. They loved what they saw and wanted to try it themselves.
Pretty soon they were riding on the track with Eastlands Velo, on the road with Bury Clarion and on the canal path from Rochdale to Radcliffe with John and their mum Susan, neither of whom are any relation to the former British pro Sean Yates.
"Before long we stopped having holidays," remembers Susan, who was soon forced to admit she could no longer keep up with her "buy one get one free" boys.
"They were always racing. Scotland, Wales, down south, all over. We got to see a lot of Premier Inns!"
Previous winners of the men's road race
2013:
Rui Costa (Portugal)
2012:
Philippe Gilbert (Belgium)
2011:
Mark Cavendish (Great Britain)
2010:
Thor Hushovd (Norway)
2009:
Cadel Evans (Australia)
Victories at under-10 level were followed by wins in the under-12s. By the time they were 14 they were winning men's races.
It was usually Simon, the marginally older brother, who would cross the line first, but Adam was never far behind, as can be seen on the role of honour for the Clarion Hill Climb in Ramsbottom. A 17-year-old Simon still holds the record for the 1km climb up Lumb Carr Road, by the way: a notable scalp for somebody in years to come.
British Cycling is not the powerhouse it has become by missing what is happening under its nose, so it should come as no surprise that both progressed through the early tiers of the GB programme.
The surprise came at 18. Simon was picked for the lottery-funded Olympic Academy, Adam was not.
"That was hard. We didn't know whether to be happy or sad," said Susan.
You could almost imagine British Cycling's boffins doing this on purpose as an experiment to test their academy. Take one identical twin, but not the other.
That is not what happened, though. They just got this one wrong.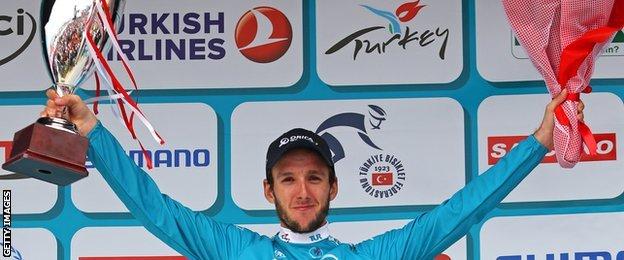 Thankfully, Adam finished college, applied for help from the Dave Rayner Fund (a cycling scholarship scheme) and set off down the old-school route to the professional peloton of the French amateur scene.
So while Simon was living in British Cycling digs in Manchester, rooming with Chris Froome at the 2010 Commonwealth Games in Delhi and learning his craft as a track rider, Adam was living from race to race, and training in the Vosges and Jura mountains.
"Not making the academy made Adam more determined," said Susan. "He got the bit between his teeth and said 'I'll show you'."
"It was a blessing in disguise, to be honest," Adam admits now. "And I would do it that way again."
But initially it seemed as if the gap in their 'palmares' (cycling talk for trophy cabinet) might grow, especially when Simon surprised everybody but himself by putting in a storming last lap to win the points race at the Track Worlds in February 2013.
A world champion at 21? Adam's response was to ask why he left it so late.
But by this point the French part of the experiment was starting to attract some very favourable reviews, if not quite delivering tangible results.
"There just weren't that many races that suited me at that level," Adam explained.
But then he got one, the 2013 Tour de l'Avenir, the 'Tour of the Future', or junior Tour de France.
By now a few kilograms lighter than his brother, Adam had become a great climber. Simon could climb, too, and had a better finishing kick, but Adam got better the harder it got.
Adam finished the week-long race in second place in all three classifications (general, mountains and points), and Simon would win two stages, including a joyous one-two into Morzine, on his way to 10th overall.
A month later, Simon showed his prowess on the punchier climbs back home by winning the Tour of Britain's 'queen stage' to Haytor. That put him on the podium with Sir Bradley Wiggins, and brought him the race's best young rider jersey.
There was now a disorderly queue of teams jockeying for their signatures, but surely they were going to Team Sky, right? That is what young Brits do, after all.
Not this time.
It has been suggested that the boys, who now live together in a state of reasonable domestic harmony in the Spanish cycling haven of Girona, ended up at Orica-Greenedge because they were still annoyed by Adam's rejection at 18, and Team Sky's coolness on taking them as a pair. That may be part of it.
But it is also true that having been apart for three years they were ready to stay apart, which is why they hired different agents.
Sporty twins

Bob and Mike

Bryan

(tennis). Most successful doubles pairing of all time. Won 16 Grand Slam titles, as well as numerous ATP Tour titles

Rene and Willy

van de Kerkhof

(football). Played for the Netherlands in 1978 World Cup final defeat against Argentina

Steve and Mark

Waugh

(cricket). The Australian duo scored a combined 18,956 Test and 16,069 ODI runs. Played in the 1999 World Cup final victory over South Africa

George and Thomas

Burgess

(rugby league). The twins, along with brothers Sam and Luke, became the first set of four brothers to line up in the same Australian side since 1910 when they played for South Sydney Rabbitohs in the NRL in 2013
What they really wanted is what White was offering them: not big money or status, just racing.
Adam opened his account with the best young rider prize at the Tour de San Luis in January, and rode well at the Tour of Catalonia in March. Simon, meanwhile, looked good at the Tour of the Basque Country.
So when they both lined up at the Tour of Turkey in April, hopes were high. The first two days passed without incident - if back-to-back sprint wins for Mark Cavendish are no longer incidents - but on stage three Simon crashed, breaking his collarbone.
Adam would finish second that day, and then three days later take control of the race with a mountain-top win. Two days later he pulled on the victor's jersey in Istanbul.
A fortnight on and now it was Adam mixing it with Wiggins in California. He would finish that race in fifth, and a month later come sixth at the Criterium du Dauphine, beating Vincenzo Nibali and Chris Froome.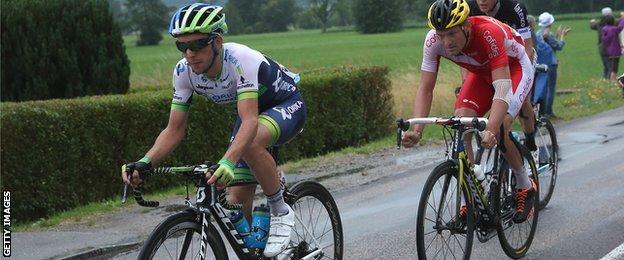 "Adam has had a stellar year, exceptional for a neo-pro," said White.
"But he really impressed me at the Dauphine because he fell back on the penultimate day but then came back hard."
Adam is proud of that, too, and his near miss at the Clasica San Sebastian, where only a late crash deprived him of a big result in a one-day race. But it is telling that his highlight was Turkey.
"I loved riding well in those big races, but winning in Turkey was the best feeling," he explained.
"You can't beat getting your hands in the air."
It is unlikely that Adam would ever have lined up at the 2014 Tour de France start in Leeds, but those three big races in two months made his absence certain as he needed recovery time.
A fit-again Simon, on the other hand, got the golden ticket when a spot unexpectedly opened up on Orica-Greenedge's Tour roster.
The youngest rider in the field, and still finding his form after the lay-off, Simon threw himself into the fray. The plan was to keep him fresh for the second half of the season by pulling him out after 12 days, a customary precaution for debutants.
Simon was not having that, though, and was still grumbling when White took him out after 15 stages, particularly after he had got into two breakaways. That is as good as it gets for some pros.
"No, he wasn't too happy. But I like that," recalled White.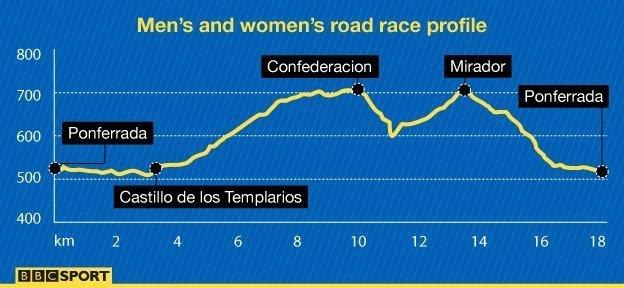 "I could have got to Paris," said Simon. "But I was tired, and there is a big difference between racing and getting around. It was the right call."
You can imagine Adam's reaction, though: I want a Grand Tour, let me at the Vuelta a Espana - the third and final of the three Grand Tours every year.
He made it to the finish in Spain as well. But if you are keeping score between the two, Simon hit back with a third at the British Nationals and a climber's jersey at the Tour of Alberta.
White hopes, and many in the peloton agree, that it is going to be like that for the next decade. The pair spurring each other on to new heights, bigger wins, more jerseys.
"We don't want to put the mockers on them, and they're at least a year away from riding for the GC [general classification] in a Grand Tour, but we can see the potential," said White.
The brothers know that. They know they need to work on their time-trialling, and they know they need to win a few week-long races before they can think about the Giro, Tour or Vuelta. But they also know they have made good starts.
"It's a job at the end of the day," said Simon.
"But it's a job you've got to love. Because it's a slippery slope if you don't. This sport is just too hard otherwise."
And that's why it helps if you have got an identical twin to share the load.