Martyn Irvine suffers broken collarbone in Guadalajara
Last updated on .From the section Cycling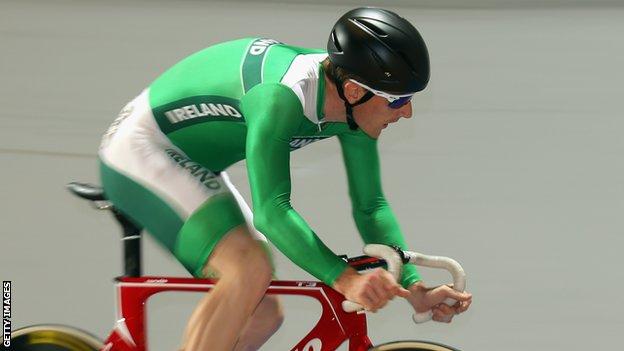 Northern Ireland cyclist Martyn Irvine has suffered a broken collarbone at the UCI World Cup in Guadalajara, Mexico.
The Newtownards man came down in a huge crash during the scratch race of the omnium event and could not carry on.
The news will come as a sickening blow to Irvine and the whole Irish track team, who had high hopes for the former world champion at the meeting.
It was in the scratch race that Irvine won a gold medal last year at the World Championships in Minsk.
The 29-year-old had been building some good form heading into the winter and had spent the last couple of months in Cycling Ireland's track training base in Majorca.
Having left the UnitedHealthCare team he joined last year, Irvine was to focus most of his efforts on the track with qualification for the 2016 Olympic Games in Rio de Janeiro his main objective.
That of course, is still the case, as broken collar bones are a common cycling injury from which riders generally bounce back quickly.
However, he could be out of action for well over a month, depending on the severity of the break.
It's not the first time Irvine has had to deal with a setback such as this.
In April of last year he broke his femur in a high-speed crash racing in the Tour of Taiwan and would spend the best part of four months recovering from that.